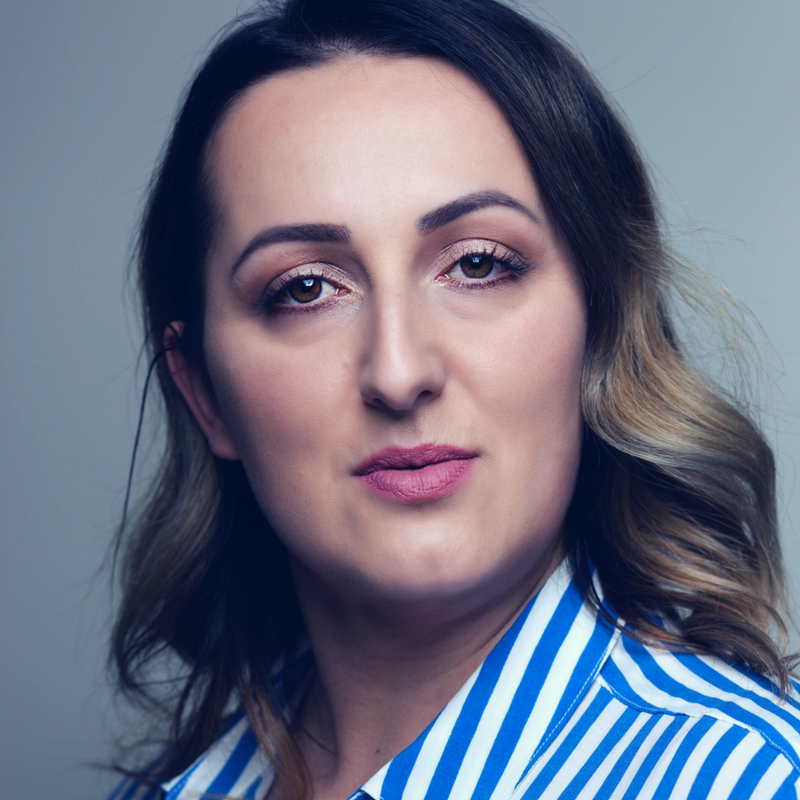 MINELA MUJDZA, MM SEATTLE SMP
"With so many micropigmentation training companies out there it was very important to find the right one that will give me not only the best training but support after as well. Scalp Micro USA did just that! It was thorough, world-class training, worth every penny. I'm extremely happy I chose them to help me be a great SMP artist."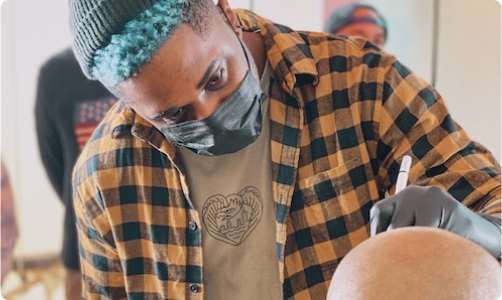 TROY HUGIE, BLIND BARBER
LOCATION
"Whether you're in the hair/beauty industry or looking for a career change, this course prepares you for a successful entry into the scalp micro pigmentation business. The instructor and team were very knowledgeable and shared a wealth of information…tips, advice, hands-on training and so much more."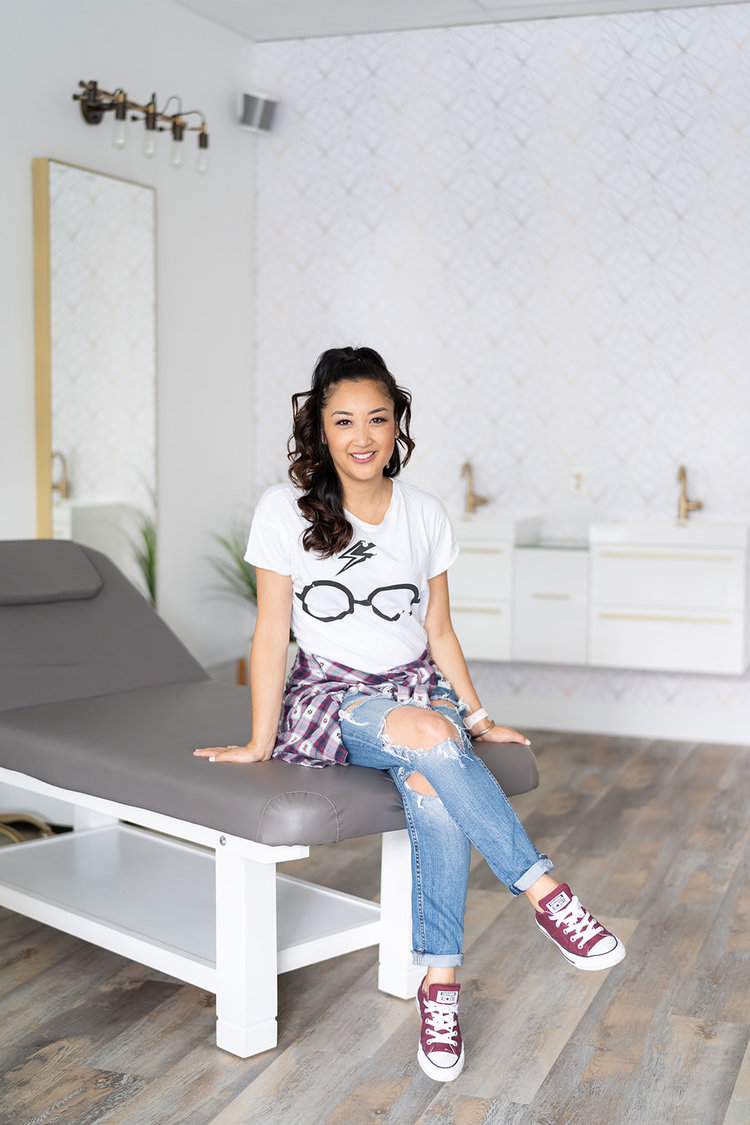 MARISSA KONG-NUTU, BOSTON BROW STUDIO
"Just finished my 4-day training with Scalp Micro USA and I am refreshed, excited, and confident to add this to my list of services. Matt and his team are phenomenal practitioners. The class is hands down the best micropigmentation class I have ever taken!"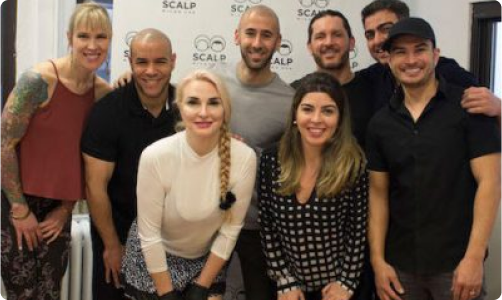 TANIA GUARDERAS, OWNER REVIVES BEAUTY STUDIO
"Now I know I can go out there and change lives. Not only are they super nice, but they are super knowledgeable. They have experience and give you the tools to become a pro! If you're looking to train in scalp micropigmentation, you have to come to Scalp Micro USA!"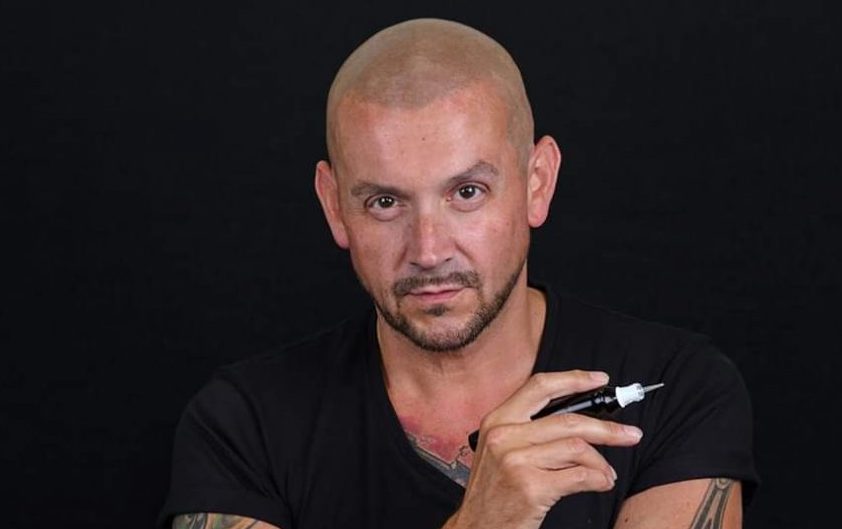 CRAIG BOTTOMLEY-HIGH, SCALP MICRO UK
"I took Matt's Scalp Micro USA training course over 3 years ago and now run one of the most successful SMP clinics in the UK. Matt has helped grow my career and took my skills to a completely different level. I was just awarded the #1 Scalp Micropigmentation Practitioner in the UK by Team Micro and could not have done it without the guys at Scalp Micro USA."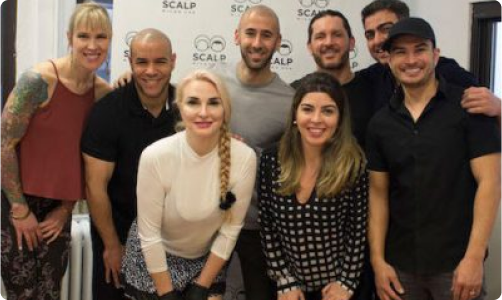 GRACE WARREN, OWNER MEME STUDIO
"I had such an amazing experience in Los Angeles getting my scalp micropigmentation certificate. The hands-on experience was remarkable and I am very excited to add this service in my business. Now I can start blessing scalps and hairlines worldwide! Thanks Matt & Derek!"
Cyanne Mercier
This is one of the Best training classes I've ever attended. I feel CONFIDENT definitely worth the investment. Graig the instructor is very Professional, he's Impressive, he's a Master Performer, one of the Best classes I've ever taken. I have to say that the receptionist was very rude & I was really uncomfortable!! If there wasn't a no refund policy in place I definitely wouldn't have stayed!!
David Joseph
Just finished my Scalp micro pigmentation Training course It was awesome!! Greg was extremely informative professional and had a wealth of knowledge that was impressive I'm extremely confident and excited about the future can't think Greg enough what an amazing course!
Joshua Bayona
Just finished my training with scalp micro USA and I could not be happier. It was detailed training with a great atmosphere. To work on live models gave me a confidence that I can now put into my own business. Graig was an amazing instructor who is with you the whole time for any type of help or tips. I'm truly honored to have trained with him and the scalp micro USA team.
Marvin Vazquez
Fun but very educational, had a blast learning an up and coming skill in the industry.
Kim Desher
This is the place!! Such a great atmosphere to learn 2 days of hand on models.
Erin Englehart
Graig and the team at Scalp Micro USA are the absolute best! I am a tattoo and permanent makeup artist. When I decided to add scalp micropigmentation as a service for my clients, I wanted to make sure that I trained with the best and most experienced artists in the SMP industry. I did my research and decided that Scalp Micro would be the best choice to help me further my education, and I am happy to say my research proved correct.... Read more
Shaquita Mayfield
I had the pleasure of getting my certificate through Graig Lauricella. He was so welcoming & knowledgeable regarding SMP. I felt well equipped after receiving my training. I highly recommend Scalp Micro U.S.A. to anyone who is wanting to embark upon the SMP journey!
Emmanuel Castro
I attended the SMP training course in New York. I would like to thank Matt and his team for the amount of time and effort that they put into developing this class. When I left, I felt fully confident to not only begin working on clients but that I had the tools to start my business. The class was well thought out from the training materials provided to review prior to arriving in class, to the marketing class and the daily hands-on training sessions. If you are interested in learning more about SMP, grow your business or sharpen your skills, I would highly recommend joining the Scalp Micro USA family.
Frank Mendoza
Great training and Graig was the best instructor. He made me feel at ease as a student. When it came to the client I like how he takes the time to get to know the client by asking questions. He is very thorough and always puts the client first. He makes a connection with the client from the beginning to the end.
Pieper Pyott
I just finished my training course last week with Scalp Micro USA in Los Angeles with Derek Bogner. I can not say enough great things about my experience. I've had several trainings in the PMU industry with some amazing trainers and nothing compares to what Derek delivers. I learned so much about the scalp, hairlines, depth, pressure, healing, client care and journey, along with so many valuable key techniques to deliver the absolute best results for my clients. Derek keeps things very engaging so the information sticks. You will leave Derek's course with respect, knowledge, confidence, excitement and overwhelming gratitude.... Read more
Nena Bakos
I recently attended the Scalp Micropigmentation course in LA taught by Derek. The passion he has for his craft is inspiring and it comes through in his training. Derek and his staff are supportive and truly want you to succeed. I left with a thorough understanding of SMP and confidence in my training. Highly recommend!
Lamprini Pap
Traveled to New York from Greece for the smp training! It was totally worth it. I had already attended other smp classes so I could compare the quality of the training program. Everyone was very helpful and shared all the little secrets that will definitely change the way I am practicing smp from now on. Thanks everyone so much.
Fola Awosika
This course was simply AMAZING! Graig was a phenomenal instructor and just an overall awesome person. Thank you Scalp Micro USA!
Rina Park
I went to Scalp Micro USA in LA to get certified and trained in Scalp Micropigmentation few weeks ago. Derek was our trainer. Best mentor ever! Professional, knowledgeable , and so easy to learn from. Brad was also there working, he was so kind to answer all my side questions and let us watch him work. They are both so talented. I still keep in touch with them to ask questions and they would kindly teach me everything I need to know. If you want to start a new career in SMP, I recommend going here for your training!
Christopher Merritt
One of the best training experiences I've had in a long time. Graig was very clear and concise with both theory and practical information. I was able to get all my questions answered and suggestions on moving forward as a smp practitioner. Definitely worth the investment.
Princezz Martinez
Hands down amazing! I came here for training and left blown away. My experience was very professional & knowledgeable. I would definitely recommend this company for training as well as service.
Antonella Durantine
Just completed a training here with Matt Lulo. The class size was great not too big. We were able to have ample time to ask questions, practice on melons and mannequins, before ultimately working on actual clients. Leaving this class I feel completely confident getting started. While there I did get a chance to meet some of the personnel. Tara at the front desk was very welcoming and kind, practitioners Ken and Justin were working on clients and they both were yielding results that appeared extremely natural.
Tiffany Rue
Attended an awesome training at the Houston location with Greg Lauricella. Hands down the best investment I've made. I've wasted money in the past on "trainings" that left me unskilled. This training was so informative, Greg was so nice, answered all of my questions, was patient, I got to watch him do amazing work and had the opportunity to work on live models under his supervision. I left this training ready to work and I couldn't possibly say enough good things about Greg and Scalp Micro USA!
Amanda B
I have been in the beauty industry for almost a decade. My passion is to help people regain self confidence. I wanted to expand my horizons, so my purpose for coming to Scalp Micro USA-Houston was for their training program. Firstly I will say I was NOT disappointed. I could go on and on about how great they teach here. Graig is incredible. I learned so much. I also love the dynamic of how things are run here. Don't sleep on Morgan either! She's does so much behind the scenes to help keep things running smooth. I've done extensive research to find the best company to help me start my SMP career and I most definitely, 100% feel that I made the best choice coming here (from North Carolina) y'all!!!!
Alan Hernandez
Excellent training program! Learned so much in just a few days with a great instructor, Graig Lauricella, who explained everything as thorough as can be. Absolutely recommend this training if you are looking to start in Scalp Micropigmentation.
林湘琳
I am Queenie from Taiwan. And I came here for training see Graig specially. I am so glad I choose right. Craig is so nice and be patient to me. I learned a lot in this class, solved a lot of my questions that I had with scalp micropigmentation. The best scalp technique here☺️☺️☺️
Brandon Escobedo
I had really good time learning about micro scalping. The class was great and very informative. Thank you so much for the experience.
Lauren Gates
Took SMP training class, was a great experience. Matt is thorough, organized, and full of knowledge. Happy to have taken the class and looking forward to adding this treatment to my services.
Michelle Rukny
It was an incredible experience and I would highly recommend EVERYONE take this training!
Georgia Nixon
I've been in permanent makeup for over 6 years and have taken countless trainings in my career. This was one of the most significant and impactful trainings I've taken to date. The knowledge of the instructor, Graig, is an OG of the SMP industry. It's rare to find an artist who can so eloquently and confidently impart their knowledge to students that the students AND model clients also feel confident in their technique and results. If you are thinking of training in smp Scalp Micro USA is *the* place you need to be.
Sadia Khan
I highly recommend Scalp Micro USA, the best place to get your SMP training. Graig Lauuricella the best teacher you would want to have.
Alex Karim
Had my training at scalp micro USA houston and couldn't be happier with everything that I have learned! Amazing place!
Monya Ray
This was a great experience for me! I learned so much in this class!
Tina Washington
Best experience ever!… glad we graduated…from mrs Turpin and mr turpin.
German Alberto Chapin
Not only did I learn from the best in the industry of Scalpmicropigmentation, but also gained a great group of friends.
Sandy Pagan
I recently completed the SMP course with Matt and it was by far the best course I've taken (I'm a PMU artist so I've also taken a lip and brow course). Matt is an amazing instructor, he makes you feel comfortable and makes sure you truly understand the ins and out of all the information needed to really succeed in the field. It did not just stop with Matt, Tara is super helpful, she will get you all the information you need and responds to all emails in a timely manner! All of the SMP artist at Scalp Micro USA were super friendly, inviting and genuine. I would recommend this course to anyone that does not want to waste their own time, do it once and do it right!! Thank you Matt and team 💜
Carlos Z
I took this class in another school before but I did not feel comfortable at that time. That is why I started looking for a better option and after doing the homework I found SMP USA. It is incredible how knowledgeable and professional they are. Starting from day 1 when I asked 300 questions (thank you Tara) till who knows when (yes, they still help you even after you finish the class). Morgan made sure we have everything ready. Breakfast the 1st day and lunch 2nd and 3rd day (that's a plus) no one was counting on that.... Read more
SCALP MP LA
Couldn't have gained the experience and knowledge from anyone better. Derek was a phenomenal instructor, but also became a friend. He gave you the ins and outs of the entire process. To a point where I felt comfortable enough to talk to a patient to understand their needs. At times we had the opportunity to shadow Derek and Brad. Brad was awesome at answering any questions related to his client. We picked as much info as we would from the Two Goats. Thank you both. Thank you Alex. You were the real MVP. Thank YOU Scalp Micro USA!
Ryan Tanaka
An exceptional experience! Truly enjoyed my time in training under Derek at Scalp micro USA (LA location)! Both Derek and Brad are highly knowledgeable and skilled in their craft and make the learning environment stress free and fun. Can't wait to put my new skills into action! Thank you!
Nikolas Orozco
Thanks Derek and the whole team Here at SCALP MICRO USA! These guys are awesome and thanks for all of the knowledge! Will be keeping in touch!
Jl. De larosa
The training was awesome! Amazing results!
Dominique Byrne
I really enjoyed my training with graig, I highly suggest taking this course if you are interested! I'm ready to bring this service to my clients in New Jersey. Thanks so much Graig.
Tracy Piatt-Fox
Undercutting this organization by only having 5 stars! I'm beyond impressed with the quality of training provided by Scalp Micro USA. Graig and the team are the best in the business.
Katrina Sinishtaj
I'm so glad I trained with Matt & his team at Scalp Micro USA. Thank you for sharing your knowledge, & allowing us to be so hands on! can't wait to extend this service to my clientele! – Kat
Traci Hallahan
What a great training course experience from start to finish. This studio has so much positive energy and a super support system. Tara is so helpful throughout the entire process. The artists (Justin, Ken) are helpful and so kind to allow us to constantly peek in on the service they are providing. Keith is super knowledgeable and shared so much with us in the area of marketing Mat was AMAZING. He was so patient and eager to see us excel. He gave a great course presentation and left me feeling confident and ready to take on SMP. I could not have asked for a better experience.
Etienne Drummond
Excellent training experience! I definitely feel like I've been equipped with the right training and tool to have a successful scalp micropigmentation business. Matt was awesome!
David Nguyen
The 4 day training course was awesome! Matt is very knowledgeable in the field of scalp pigmentation. I would definitely recommend the training to anyone thinking about taking it!
T T
I received invaluable training from Graig on the SMP process. Graig answered all of my many questions and made me feel confident that I am fully prepared for performing SMP.
Johnny Blackbeard
Overall great experience. Very detailed training and solid foundation!
Melaknitted
Absolutely worth every penny! Matt is an excellent instructor and gives really in depth training. I really left feeling confident and secure, ready to start my microscalping career! Cammy
Drialys Pèrez
I attended to the Scalp Micropigmentation training in New York on May 11-13. Matt is an amazing instructor and the training was incredible. I would HIGHLY recommend this class to anyone wanting to start a career in SMP! And to those looking for a life changing experience, know you will be in the perfect hands.
Madison Durbin
I went to their 4-day intensive training in NYC and the experience was AMAZING to say the least! The whole team is so professional and experienced in this industry. Matthew is a great trainer, encouraging, and a wealth of knowledge. His teaching style is very hands-on and we had time to work on models for 2 days of the training with his guidance! If you want the very best SMP training all around, look no further!
MrAa4god
Training was Phenomenal! This is my 3rd training with SMP. By far the best. Matt answered all of my questions. Training is recommended. Practical & Hands-on Training provided!
Shalyn Gamba
Everyone was so talented and I feel very confident bringing this service back to my shop after this training.
Ibrahim Mpiana
I took the training course for Scalp Micro pigmentation. It was absolutely amazing! Graig is super talented, very experienced, and a fantastic teacher. I feel like I learned everything I needed to know about SMP, I feel confident going back to my city and helping a lot of people get beautiful results.
Macy Graham
I am so grateful that I took my smp training through Scalp Micro USA at the Los Angeles location with Derek Bogs! Thanks to this training I feel fully prepared to move forward in my career in not only the physical aspect, but the marking aspect as well. I could not appreciate the excitement from the training team more. Would recommend to any interested artist!
Rob Graham
I just finished the training course with ScalpMicro USA in LA. This hands on training gets down and dirty from start to finish. Derek does a great job of keeping students engaged by showing you basics, as well as, giving you some of his own personal tricks of the trade. He is extremely patient with a positive vibe. They keep it professional, but also treat you like family allowing you to feel comfortable throughout the week. We can't forget about Keith, he gives students a rundown on how to succeed in the industry.... Read more
Brow Lady Microblading
I searched long for an academy to provide SMP training and kept returning to Scalp Micro USA. I decided to level up my service and signed up for their training in nyc. Best decision I made. I learned what I needed to know plus more. Everything was hands on. We worked on 4 (yes 4!!!) models. Highly recommend training with scalp micro USA.
Bikram Shrestha
Attended the Scalpmicro USA training in NY. It was an amazing experience. I love how the course was designed and was super informative as well as extremely practical. Matt and his whole team are great and very helpful.
Javid Chondrhy
Training was awesome I feel very confident in offering this new service Staff was friendly and inviting Would def recommend:)
Flutter and Wink Inc.
I recently took this training course and it was my second for S.M.P. Info was extremely well presented and hands down one of the best trainings I've ever attended. Graig was extremely knowledgeable. Absolutely impressed with the training material and instruction. Highly recommend taking this course if you want to be the best in the industry. I'm feeling more confident with the tools I now have. Thanks!
Kellie Pierce
Graig provided a very thorough, in-depth, hands on advanced SMP training. I highly recommend Scalp Micro USA for SMP and SMP training.
Troy Hugie
I recently attended the scalp micro USA 4 day training in a NYC. It was beyond my expectations!. Whether you're in the hair/beauty industry or looking for a career change, this course prepares you for a successful entry into the scalp micro pigmentation business. The instructor and team were very knowledgeable and shared a wealth of information… tips, advice, hands on training and so much more.
Ali Zamora
Attended the training in Los Angeles with Matt and Derek, I was apprehensive before my class but with their guidance and teachings I now feel confident in my own abilities to navigate the waters of scalp micropigmentation. Thanks for everything!
Alyx Carter
I just finished my 4 day training with Scalp Micro USA. Not only do I feel more confident with my skill, but I feel more than prepared to take on clients and take this service back to my company, House of Him. Thank you to Graig and the Scalp Micro Team!
Mitchell Braun
I just finished my training with Scalp Micro USA and I cannot be any more pleased. Matt is very fun and professional. I left feeling confident in my skills to go back home and start treating clients. I researched a lot of other companies and so glad I went with Scalp Micro USA. Anyone thinking of taking the course should do it!
Angel Febus
I was looking to change my career and with no experience at all in the SMP industry. Decided to get the training with Scalp Micro USA. Matt really took his time to explained everything from the bottom up and techniques. If you want to be the best you have to train with the best. I am really pleased with the 4 days extensive training. Thank you Matt Iulo.
Nico Michelli
I took the training course, awesome experience. Every question was answered. I will return for future classes, if offered. In my opinion they're the best in the Scalp Paramedical Tattooing Industry.
Free consultation
The #1 scalp micropigmentation training course
"*" indicates required fields
Benefits of the course
Get expert training to perform scalp micropigmentation treatments.

Learn how to select the proper color, density, hand techniques, and hairline type.

Become educated on the scalp micropigmentation process, Hair Tattoo, and Scalp Tattoo health and safety.

Receive scalp micropigmentation training certification to use in your permanent cosmetics career.

Ongoing support from scalp micropigmentation experts to continuously develop your SMP industry skill set.