Blog
Hair Tattooing for Scar Camouflage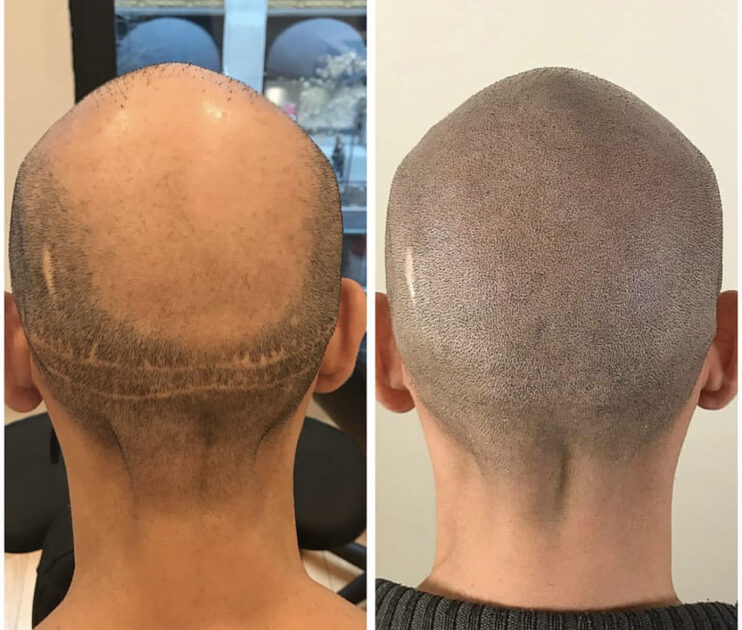 A hair tattoo is effective for people who want to diminish scars from either follicular unit extraction (FUE) follicular unit transplant (FUT) procedures. Hair transplant scars are the most common type of marks clients want to cover. However, scalp micropigmentaion can be used to help cover up scars on the scalp whether it was caused by injury or surgery.
Why Does Hair Transplant Surgery Leave Scars?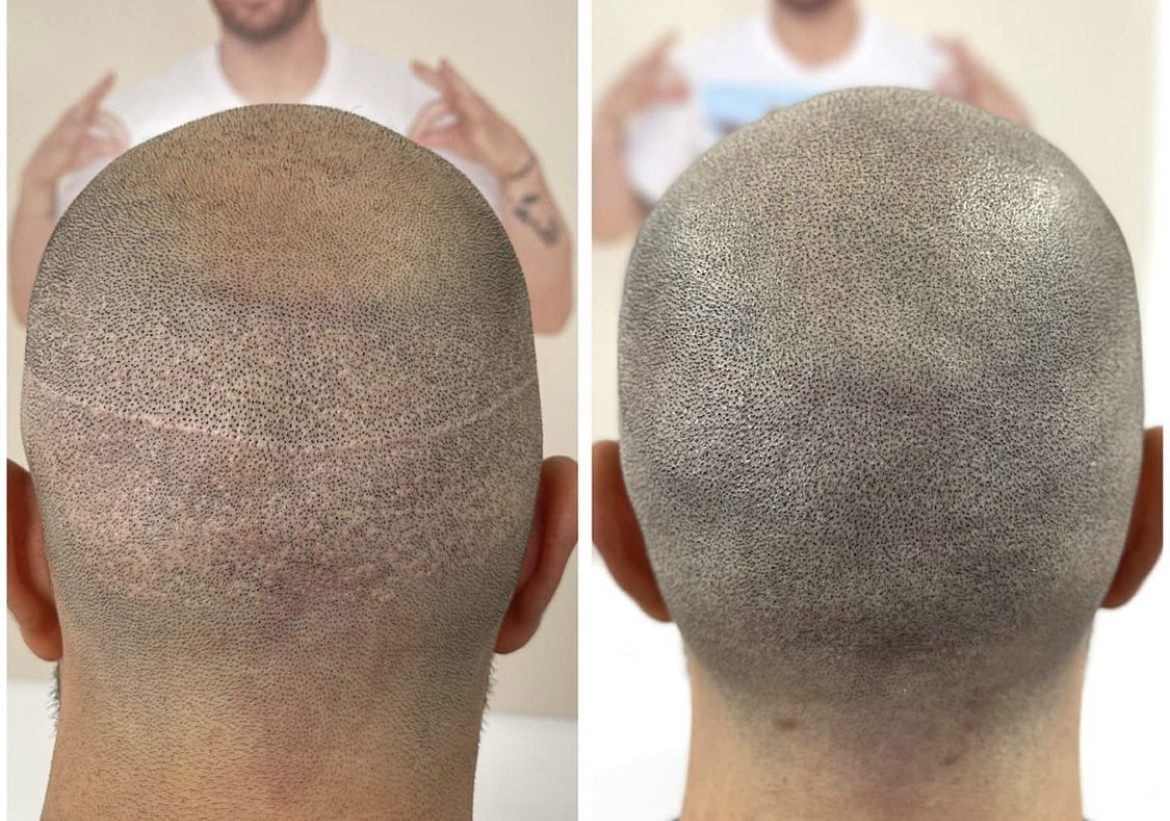 Hair transplant surgery is real surgery. It requires an invasive procedure complete with incisions made by surgical instruments. Scar tissue naturally forms a protective barrier over any cut or injury. It is the body's effort to replace cells that have been destroyed. Unfortunately, scar tissue lacks the elasticity and suppleness of the skin.
The severity of scarring varies from person to person. Even people who have had the same hair transplant surgery from the same specialist will have different levels of scarring. The body's inflammatory response and production of fibrous tissue both have a big impact on how visible a scar will be after a wound heals. In the case of a surgical procedure, the skill of the surgeon also makes a difference.
FUE or FUT: Which Scar is Worse?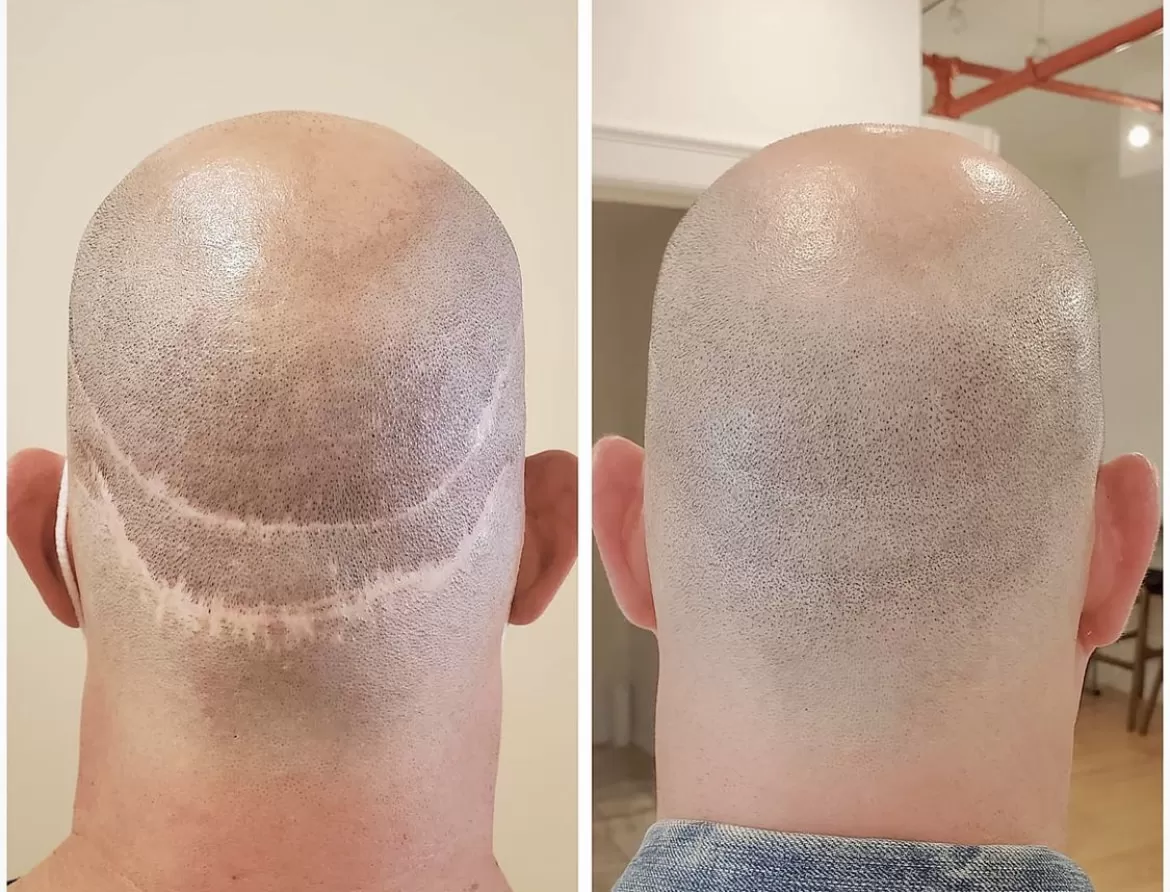 The follicular unit extraction (FUE) method can leave behind thousands of small punch-hole scars where individual donor follicles were harvested. These scars are generally less visible than a FUT scar if hair grows back in around them.
During the follicular unit transplant (FUT) a strip of scalp measuring several inches long is removed. After removal, it is transplanted to another part of the scalp where donor hair is needed. In some cases, the scar stretches from the back of one ear to the other.
Any scar can be difficult to live with for the person who has it. Fortunately for hair tattoo clients, SMP works on both FUE and FUT scars.
What is Hair Tattoo?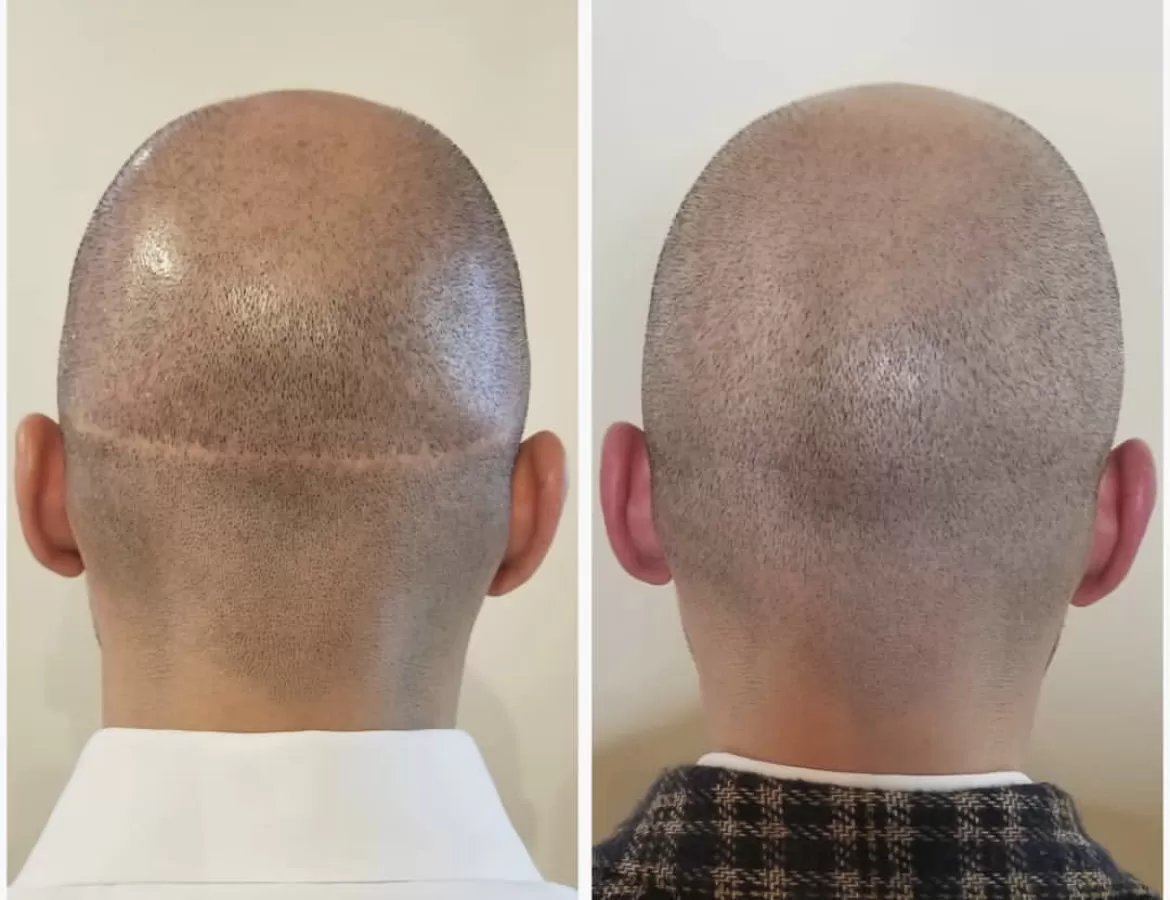 First, hair tattoo isn't a tattoo in the traditional sense. The process of scalp micropigmentation is less invasive than a traditional tattoo. Instead of ink, our technicians use a specially formulated pigment called Folicule that can be diluted to complement any hair and skin tone.  Micropigmentation equipment and disposable micro needles are used to ensure the pigment is delicately placed at the correct depth, around 1 to 2 mm deep.
During the process, tiny deposits of pigment are laid between natural hair follicles, not on top of them. This technique creates the look of a fuller, more even hairline. Doing SMP over the entire head gives clients the look of a full head of closely shaved hair.
Hair tattoos are fast to finish. It takes 2-3 treatments to complete a full scalp tattoo and scar. There's no downtime with SMP. You can return to your normal schedule as soon as your appointment is over.
How Does Hair Tattoo Help Hide a Transplant Scar?
Hair tattoo is an excellent technique for camouflaging scars leftover from FUT or FUE surgery.
Covering FUE Scars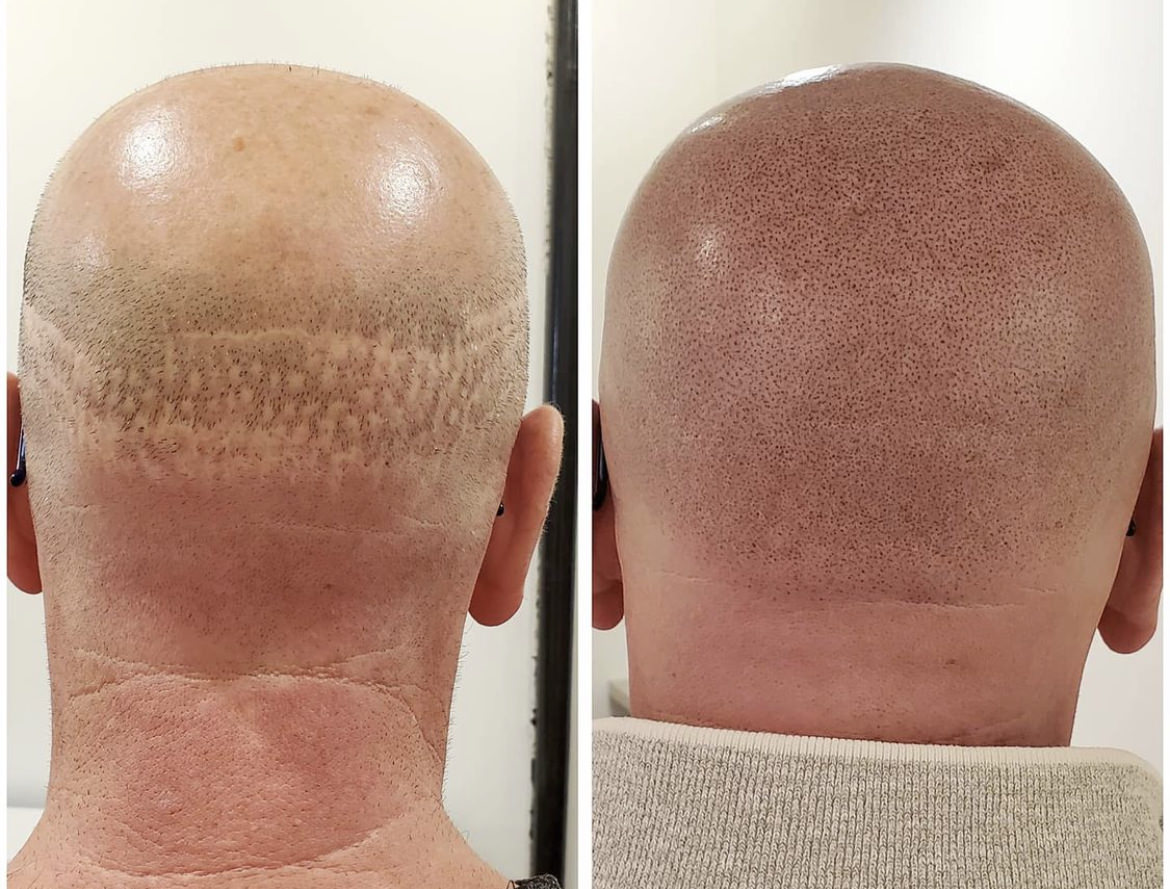 The hundreds or even thousands of pin-point scars that plague some FUE treatment patients are easily camouflaged with hair tattoo techniques. A skilled technician can place pigment on top of and around these small dots of scar tissue. Because there is no longer any hair in the scarred-over follicle pockets, it is safe to tattoo directly on top of them.  After scalp micropigmentation, depending on the scar you can see up to an 75-85% camouflage of your scar. Please note, we can never guarantee 100% camouflage as a scar by nature will never 100% go away. However, we will always be honest with you during a SMP consultation and give our best recommendation for your scar treatment outcome.
Covering FUT Scars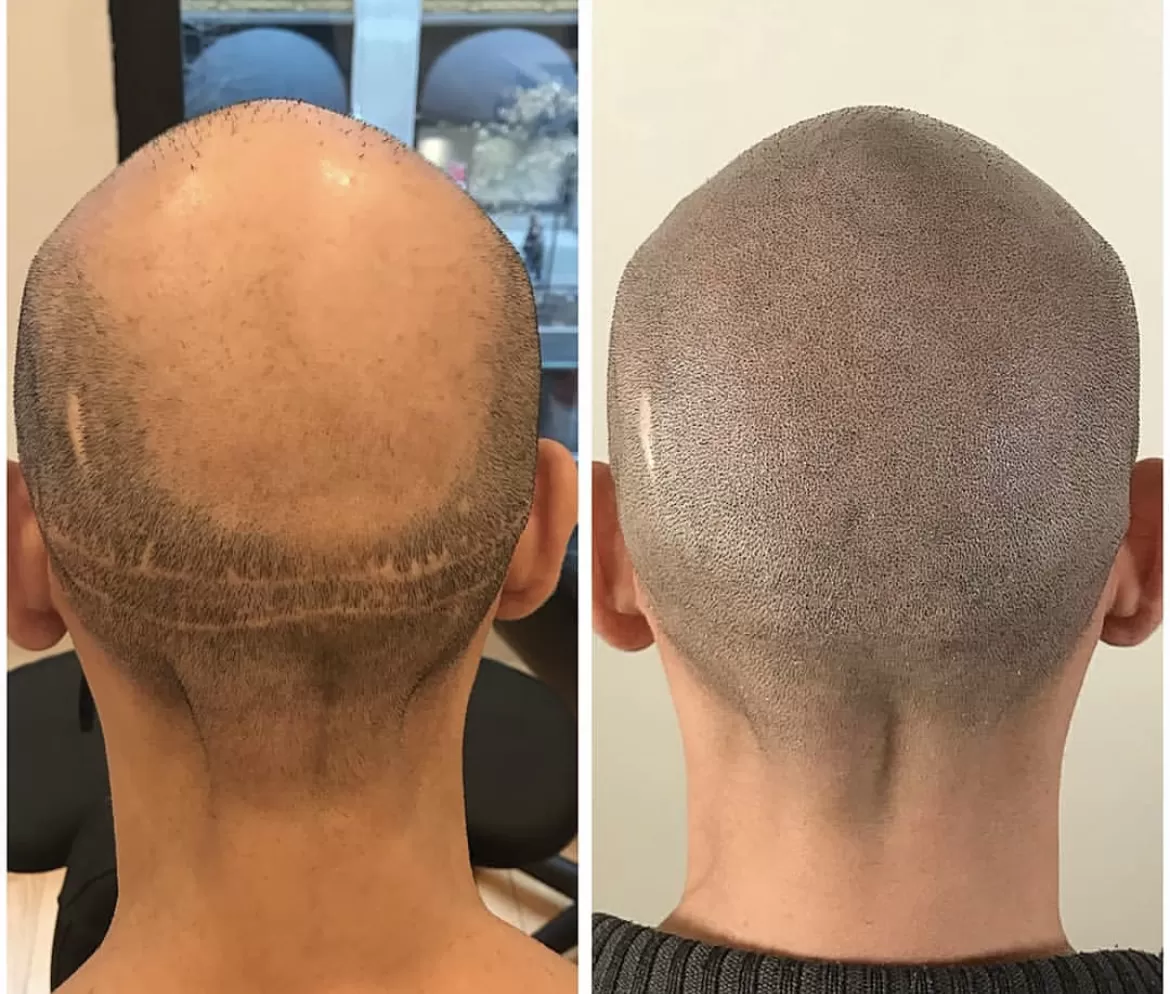 The scar from a follicular unit extraction can be large and highly visible, especially if the transplant fails and hair does not grow enough to cover the area. Clients are not only forced to go back to square one with their hair replacement treatments, but they must also deal with a nasty scar.
Covering a FUT scar gives your micropigmentation technician a true opportunity to use their artistry. A skilled hair tattoo technician can disguise the scar line by applying tiny dots of pigment on and around the scar line. Depending on your goals and your existing hairline, you may opt for a simple scar cover-up or an entire scalp tattoo.
During a consultation, your technician will discuss the options and can provide suggestions for giving you the most natural-looking scar coverage possible.
Is Scalp Micropigmentation Right for Me?
Anyone who wants a neat, short hairstyle is a good candidate for a hair tattoo. SMP requires little maintenance. After healing you can swim, shower, work out and enjoy life without worrying about your hair. Being left with a hair transplant scar is a big disappointment. The good news is, it doesn't have to be a constant reminder of a bad experience. Take a look at some of the scar camouflage results enjoyed by Micro Scalp USA clients. You'll see for yourself that hair tattoo can help you regain the personal confidence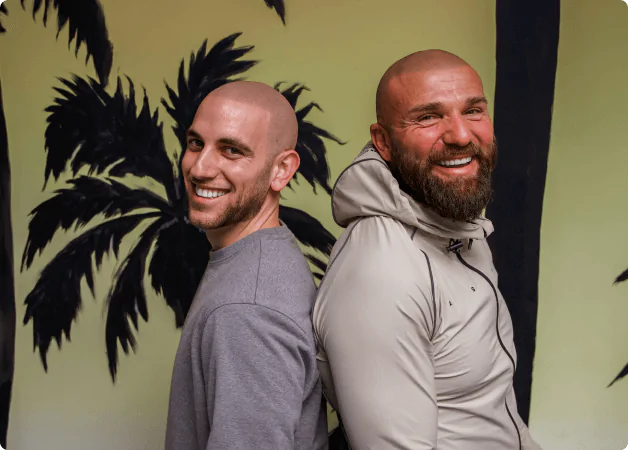 Tired of hair loss?
Get the perfect hairline, 100% guaranteed, with our scalp
micropigmentation treatment that is customized just for you. No more
crazy combovers. No more ineffective medications. Just results.