Blog
Best Hairstyles for Guys That Are Balding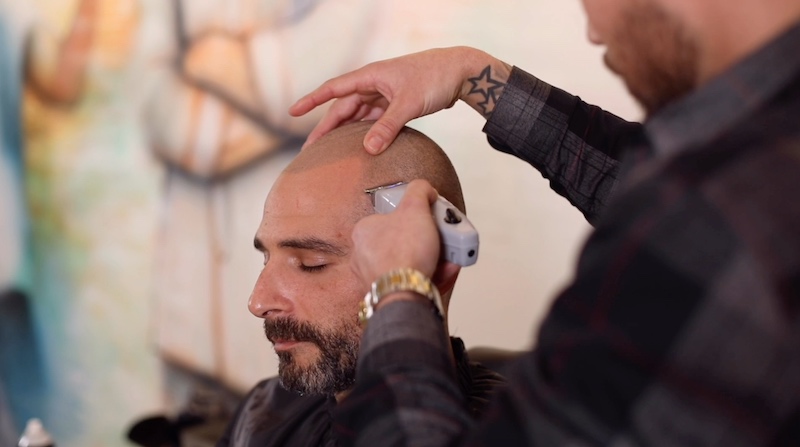 So, you're balding or thinning and asking yourself how you should handle your next haircut. Whether you should cut it or let it grow longer is the age old question. But if you're like many other men with the same problem, you have a range of options, including both short or long hairstyles. 
You can go for the classic buzz cut or a longer, layered style depending on your level of hair loss. Whatever you decide, avoid opting for a comb over which can actually accentuate your baldness. Instead, try one of the following hairstyles we guarantee will help you own this stage of your life.
SHORT HAIR
When it comes down to going bald, short hairstyles are the way to go. They're easy to maintain and end up looking a lot better for many guys out there. Short hair can camouflage patchy spots and cut down on time spent getting ready so you can tackle your daily goals without distraction.
Buzz cut
The buzz cut might be one of the best short haircuts for men. Not only does it help blend your receding hairline and any thinning spots, but it's also easy to manage. You can even give yourself a buzzcut!
For more apparent bald spots and hair loss, you can try scalp micropigmentation to give a fuller appearance around the hairline and crown. This non-invasive procedure uses replicated hair follicles to create a clean buzz cut look.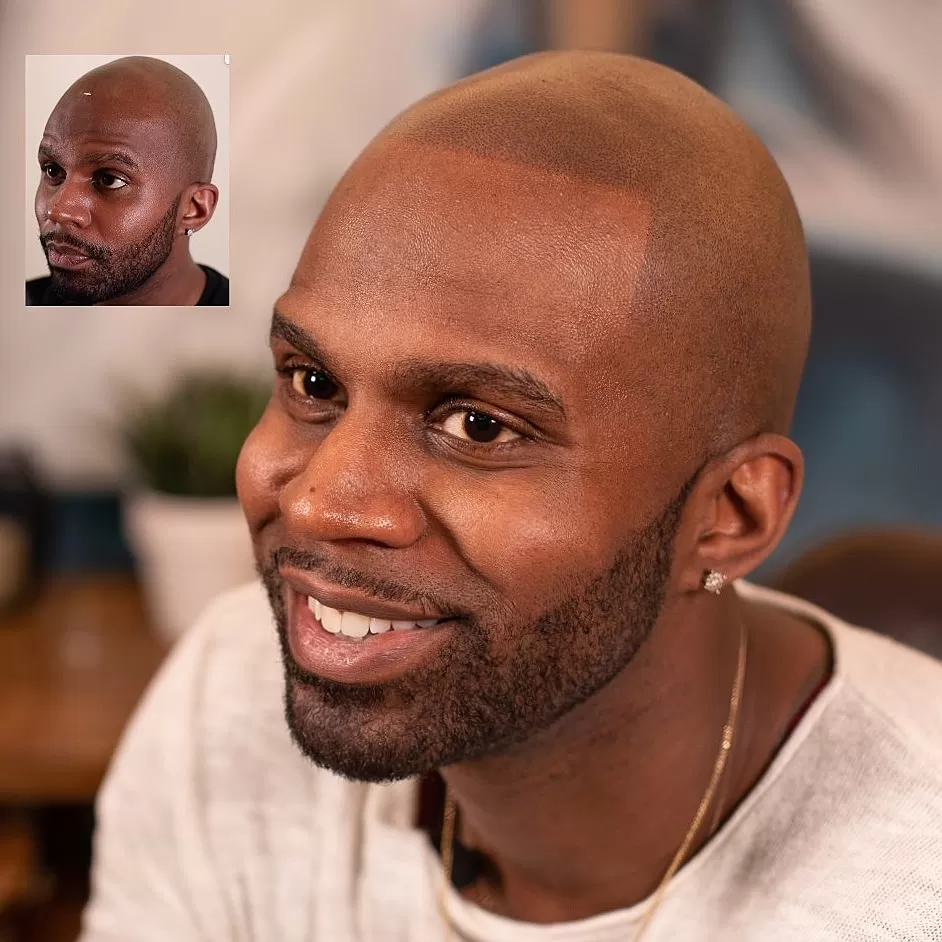 Short crew cut
Like the buzz cut, the crew cut or fade can help draw attention to your face while masking any balding areas. This military style can be cut high and tight by buzzing or shaving the sides and leaving slightly longer hair on top. This cut looks sharp and creates a more flush hairline. 
Clean-shaven
If you've lost enough hair that it will be hard to cover up your hair loss or are just fed up with your thinning hair, you can go one step further than the buzz cut and shave it all off. The clean-shaven look gets rid of any trace of hair loss and is easy to maintain with a pair of clippers. It can be achieved at home and works well with scalp pigmentation.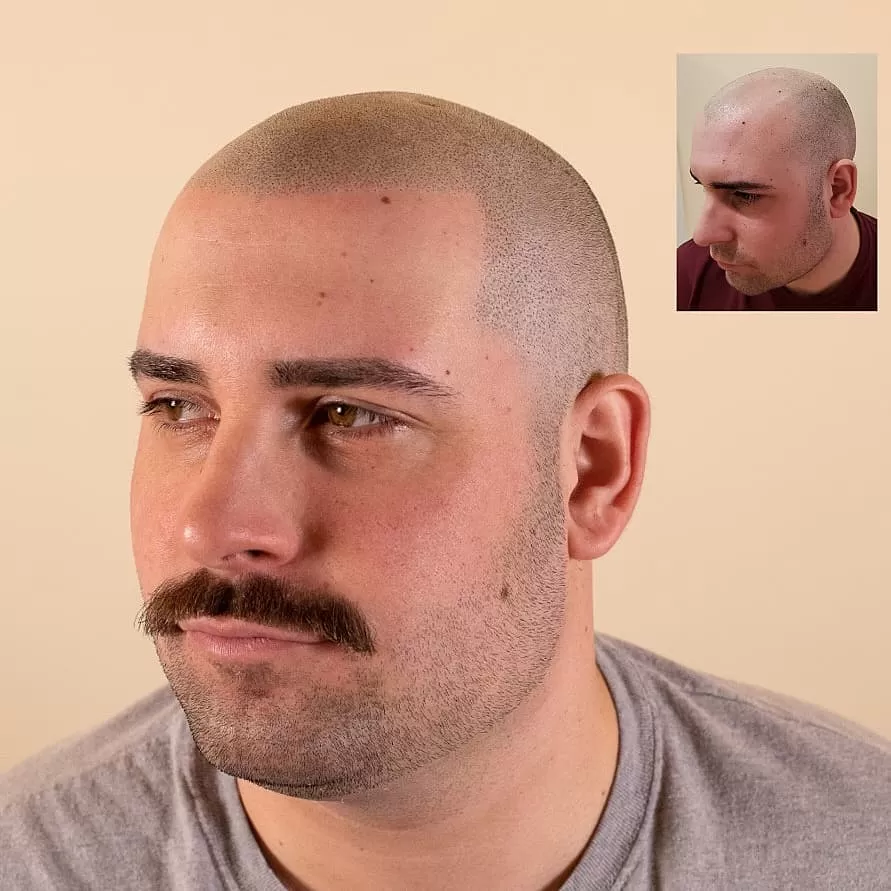 LONG HAIR
Longer hairstyles may be harder to pull off in some cases. But if your hair is set up right, a longer hairstyle may work for you. Still, unlike shorter hairstyles, you want to make sure you're not overcompensating or highlighting any bald spots.
Layered
If you're not ready to go short, a layered look is always an acceptable style. Creating layers can help blend and conceal thinning hair. If you have naturally wavy hair, this style works out even better. Also, scalp micro pigmentation can be used to add density to thinning hair for those that want to keep it a bit longer on top. 
Slick back
The slick back is a great hairstyle for those with a receding hairline or thinning hair. Use some product to help give it the shape you're looking for and help keep it in place. This hairstyle also helps highlight your facial features. 
Grow your facial hair
Facial hair works particularly well for short hair styles. While short hair draws attention to the face, facial hair can 10X this benefit. A well-tamed beard gives a masculine appearance and enhances your jawline.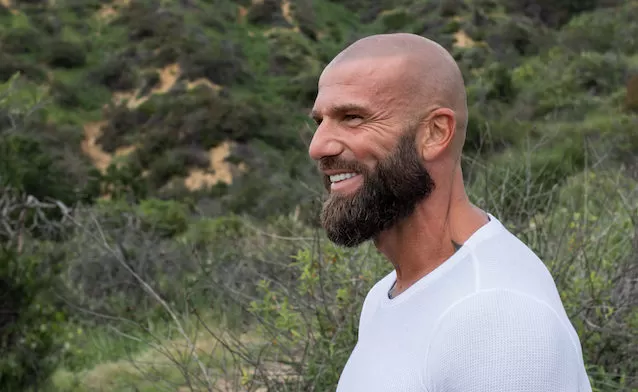 Talk to your barber
If you're still stuck on a hairstyle, try talking to your barber. Oftentimes, they'll have a better picture of how a hairstyle will work for you. You can ask them to help you choose a hairstyle that masks your receding hairline, thinning spots, or cowlicks. 
Bottom Line
Although it may sound counterintuitive, a short haircut can help blend your hair and conceal signs of male pattern baldness. This helps create a more even look without drawing attention to your thinning hair. One of the most versatile yet classic short haircuts for men is the buzz cut. 
No matter your age, you can treat your thinning scalp with a number of timeless hairstyles. By following a general guideline of keeping it simple and, most importantly, embracing your baldness, you can find a hairstyle that works for you. 
If you're losing hair, you can also try other methods like scalp micropigmentation. At Scalp Micro USA, we help guys who are balding by creating the look of thicker hair. The scalp micropigmentation process uses tiny follicles, which will round off your hairline and fill any bald spots. It can be done around the sides or over your whole head to replicate the look of a buzz cut. 
Book a consultation to see if scalp pigmentation could be right for you.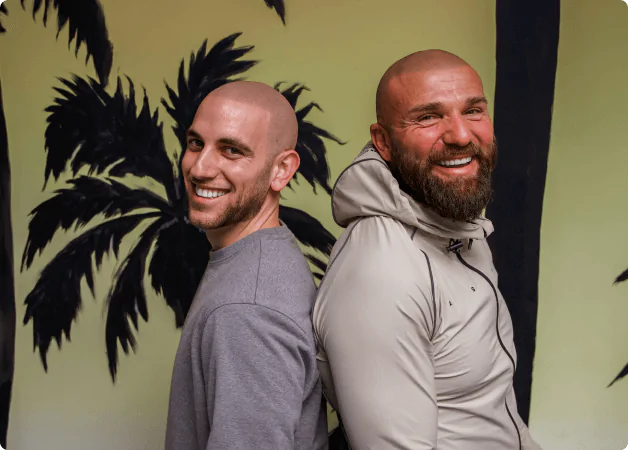 Tired of hair loss?
Get the perfect hairline, 100% guaranteed, with our scalp
micropigmentation treatment that is customized just for you. No more
crazy combovers. No more ineffective medications. Just results.