Blog
Scalp Micropigmentation – Customized SMP Hairlines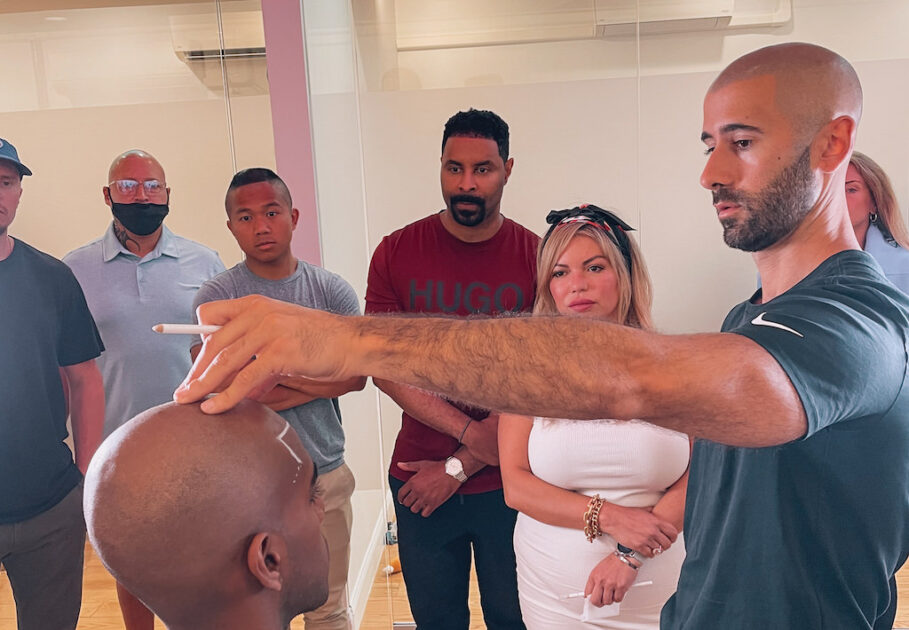 Are you wondering what hairline you should choose for your scalp micropigmentation treatment? In this article, we're going to cover the three most popular hairlines here at Scalp Micro USA.
The Straight Hairline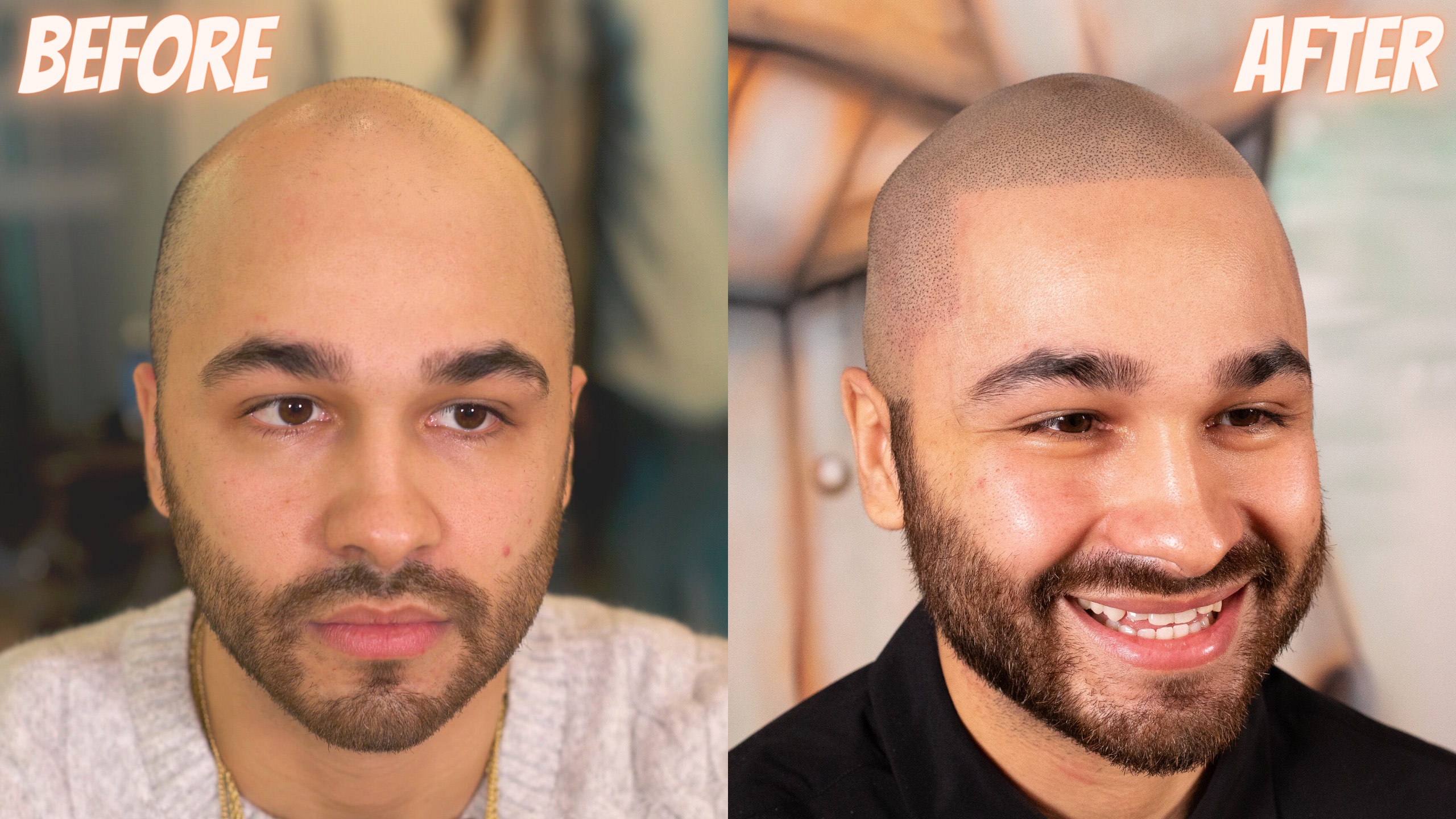 The first hairline we're going to talk about the first hairline shape is the straight hairline.
This is a really cool stylish look for those that are looking for a more youthful or cultivated haircut style. It's pretty straightforward, no pun intended. Let's talk about a couple of the features of this type of shape and line.
First, you have your center point. The center point is always that middle point directly in-line with the middle of the nose. For our hairline to be straight, the center point needs to be level and in line with the top temporal points on either end. The temporal points are the profile points on the top, so for a line to be straight, these three points need to be flat.
It needs to be a flat surface. It's like if you put a shelf up on the wall, you want to make sure it's level so that you put a marble on it, the marble will not roll off one end. The same is true with your straight hairline; you want it to be a pretty clean flat line.
A straight hairline is more of a clean-cut cultivated style. For those that enjoy going to the barbershop and getting lined up or hedged up about once a week, this style could look really good for you.
The Round Hairline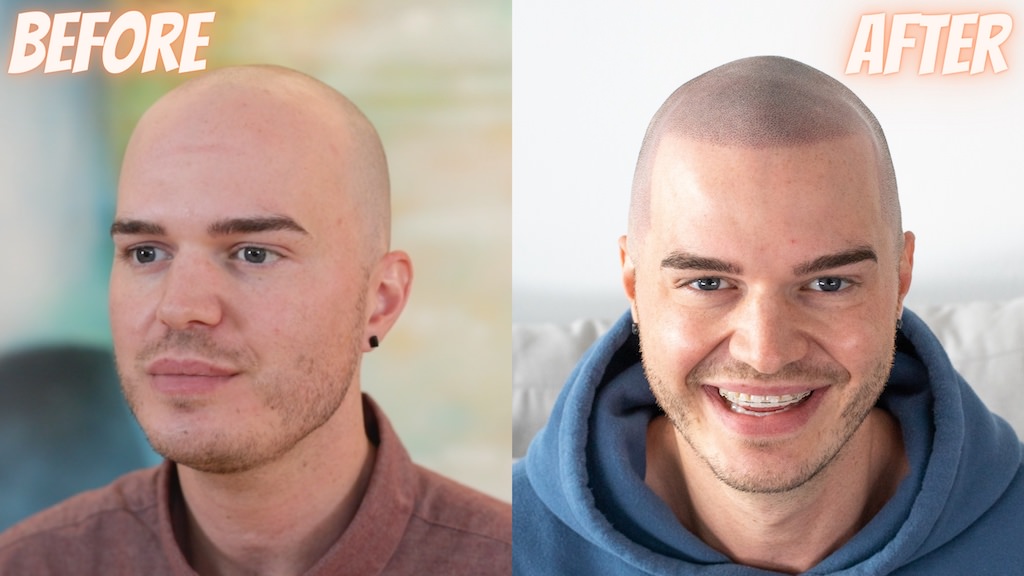 The next shape we're going to talk about is the round hairline. Many people choose the round hairline when they're still looking for a youthful look, but want something that is not as bold or as cultivated as that straight clean flat line.
With a round hairline, there's a couple of small differences. The first is at the center point, where there is actually kind of a slight bend. It starts bending a little bit in the front, and that gives it a bit of roundness.
Most importantly is that the top temporal points. Remember those are the points on each end of the hairline. These are a little bit elevated from the center point. They come up just slightly from the center point, giving a kind of natural round shaping in the front.
There are different degrees you can do this. You could have it just softly round, or it could be even more round and almost be v-shape as well.
A round hairline can be a really good choice for those that are looking for a youthful look, but maybe not as aggressive as a really clean barber style cut.
The Curved Hairline
The last hairline shape we're going to talk about is the slightly receded, or
curved hairline. Let's talk about some of the features of this hairline.
With a slightly receded line, the center point is again slightly bent and curved, allowing for a more naturally receded trajectory of the hairline.
For any of these round or slightly receded hairlines, you want to see a little bend in the front. What you'll notice is this hairline comes up as if it's going to round like the last hairline, but then starts to slowly curve back down. With that, you get a nice, soft, up and down curve to the hairline, which is really natural-looking.
This is how a lot of male hairlines look as we age a little bit. You will see a little recession. I know that's a bad word, but you do typically want to see a little bit of maturity and recession at the hairline, and this hairline can show that.
It can still give you a youthful appearance, as you're getting a hairline back
it's going to look more youthful, but this line gives you a little bit more naturalness, a little bit more of how mother nature gives us hairlines over time as we mature.
If you're asking for that receding line, you want to see a little bend in the front. You want to see it come back, retreat a little bit, and then slowly bend back down into your profile points.
To recap, there's a couple of important features to pay attention to, so let's talk about that real quick.
First is the top tempo point, which we've mentioned before in this article. That point is very important because the height of that point will determine whether it's a straight round or slightly curved hairline.

More important than that is knowing where and how deep this should fall on the scalp. Typically, the top temporal point should be more or less in-line with the interior of the sideburn.
Whatever hairline best suits you, the skilled and experienced practitioners at Scalp Micro USA  are ready to answer all your questions. Visit us, and we'll provide the best solution for your hair loss issues.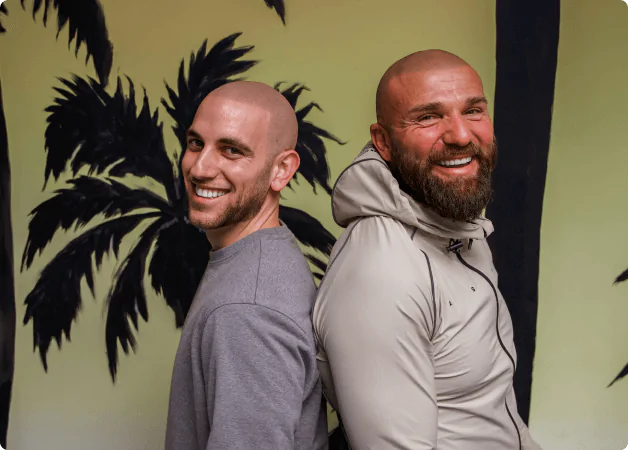 Tired of hair loss?
Get the perfect hairline, 100% guaranteed, with our scalp
micropigmentation treatment that is customized just for you. No more
crazy combovers. No more ineffective medications. Just results.