Blog
The Best Scalp Micropigmentation Results 2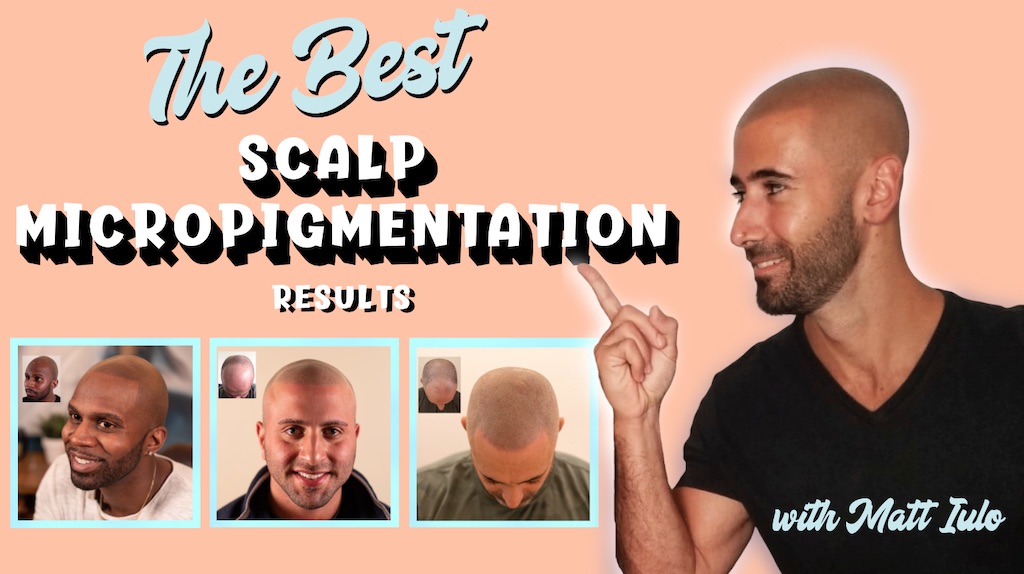 Last year, we picked our best scalp micropigmentation results. 
And so far this year, we've been fortunate enough to work with thousands of guys dealing with hair loss across our Scalp Micro clinics in New York City, Houston, and Los Angeles.
Without further ado, let's jump into some of our best scalp micropigmentation results in 2020.
Travis' Scalp Micropigmentation Transformation
Travis completed just two scalp micropigmentation sessions for the final look. We went with a more youthful and soft hairline. The hairline he chose had a good youthful shape but was more gradient and wasn't as strong. The color match is perfect to his existing side shaved hair which creates a seamless blend. He'll be shaving his head a few times per week to maintain this look.
Hairline Recession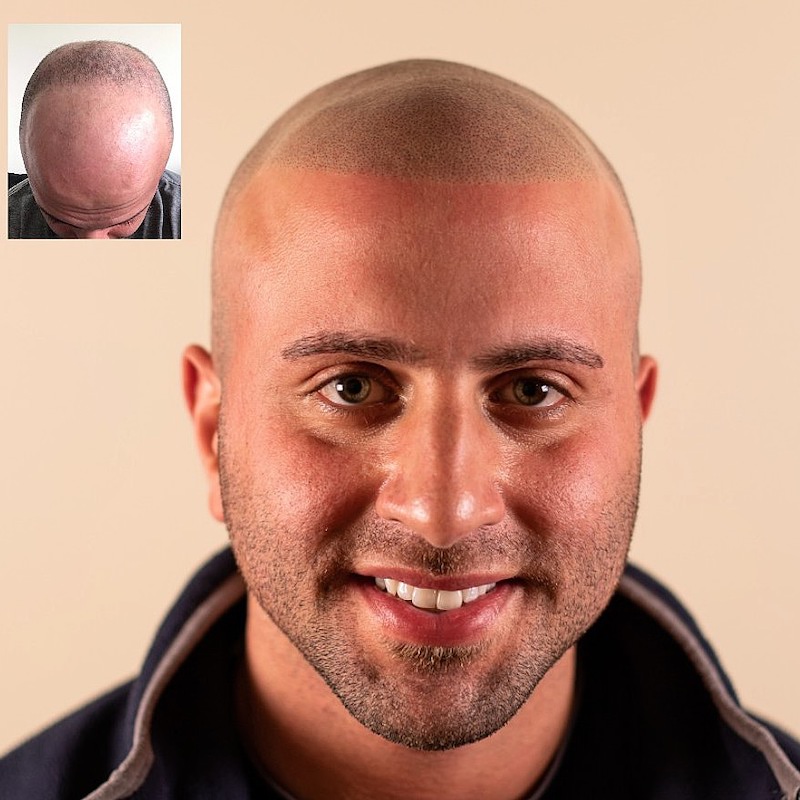 This client had an amazing transformation. He suffered from severe hairline recession, only having some hair left on the back part of his scalp and crown. We had a big hairline transformation for this client. He opted for a more linear hairline, a bit tighter, and sharper but still natural to fit his head shape and style. The framing of the face was not too low and had a nice edged up look.
Crown Thinning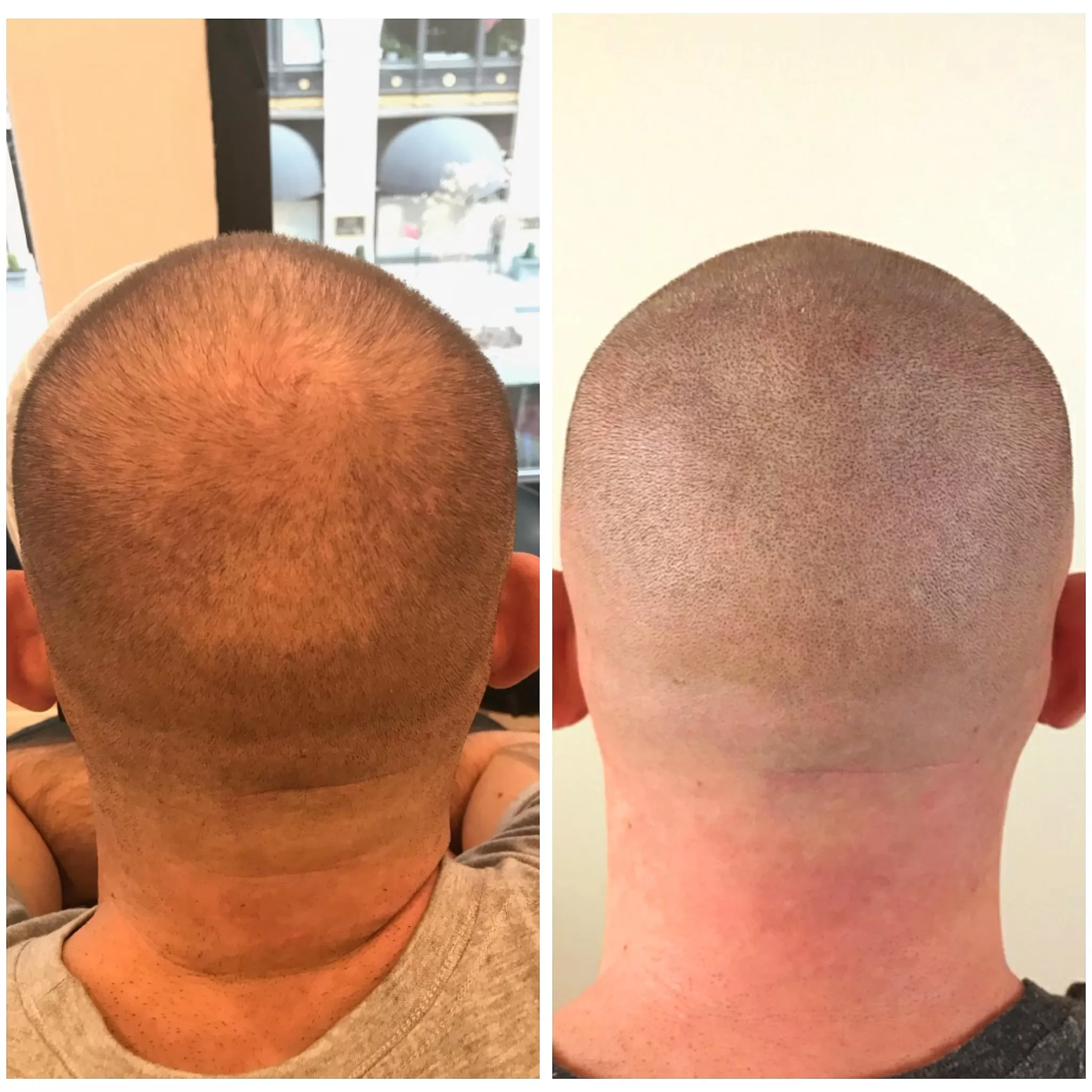 This client had a decent amount of thinning with some hair left but due to the thinning that "horseshoe" was beginning to show. After just a few sessions, we were able to fill in density and add replicated follicles into the crown area. This client keeps his hair pretty short which helps to erase that pattern of hair loss.
Scalp Micropigmentation in Houston, TX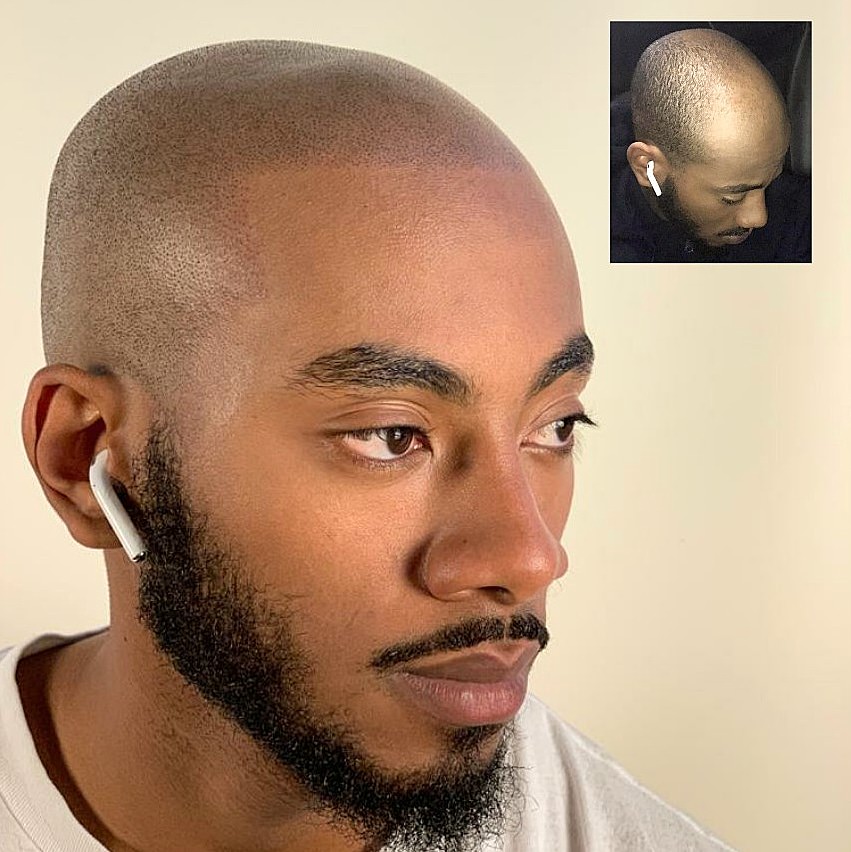 This is an amazing SMP result from Graig Lauricella out in Houston, TX. This client was a Norwood 6 and requested a very youthful, bold, cleaner hairline. The edges are a bit sharper and is a clean style that fits this client perfectly. The profile comes in at a 75 to 85 degree angle and hits the mark spot on. We blended in the scalp pigmentation treatment to his existing side hair for a very youthful and natural treatment outcome.
Slight Hair Loss
This is a perfect example of how scalp micropigmentation can help those with only minor hair loss. He had a good amount of hair up top but it was starting to thin and there was front recession as well. We were able to blend our pigment into his existing hair for a jaw-dropping result! You can't discern what is hair and what is replicated pigment. This is a slightly broken hairline, not as sharp as some other styles, and works well for this client.
Hair Transplant Scar + Scalp Pigmentation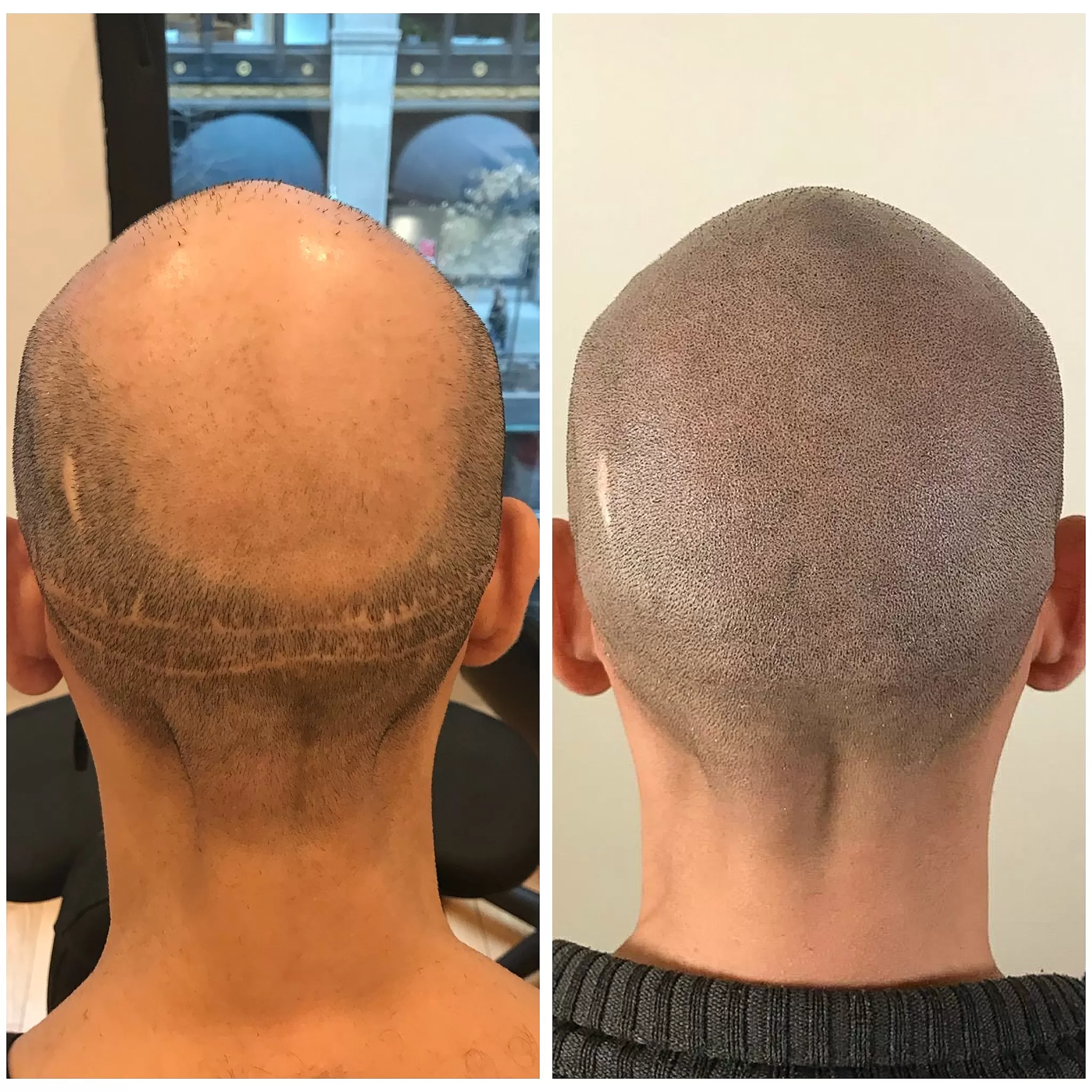 This client had multiple failed hair transplants and was left with a few linear scars on the back of his head. Scalp Micropigmentation is a great option for those looking to camouflage FUE or FUT transplants scars. This client wanted to fill in the entire top part of his head as well. This transformation is just incredible! You can see the scars are camouflaged perfectly and we were able to erase the hair horseshoe. This was done out of our NYC clinic by Mike Sosna. The client intentionally left a tiny authentic scar for a more realistic effect which is something our team can do. Check out more scalp tattoo hair transplant camouflage HERE!
Scalp Micropigmentation Client From Germany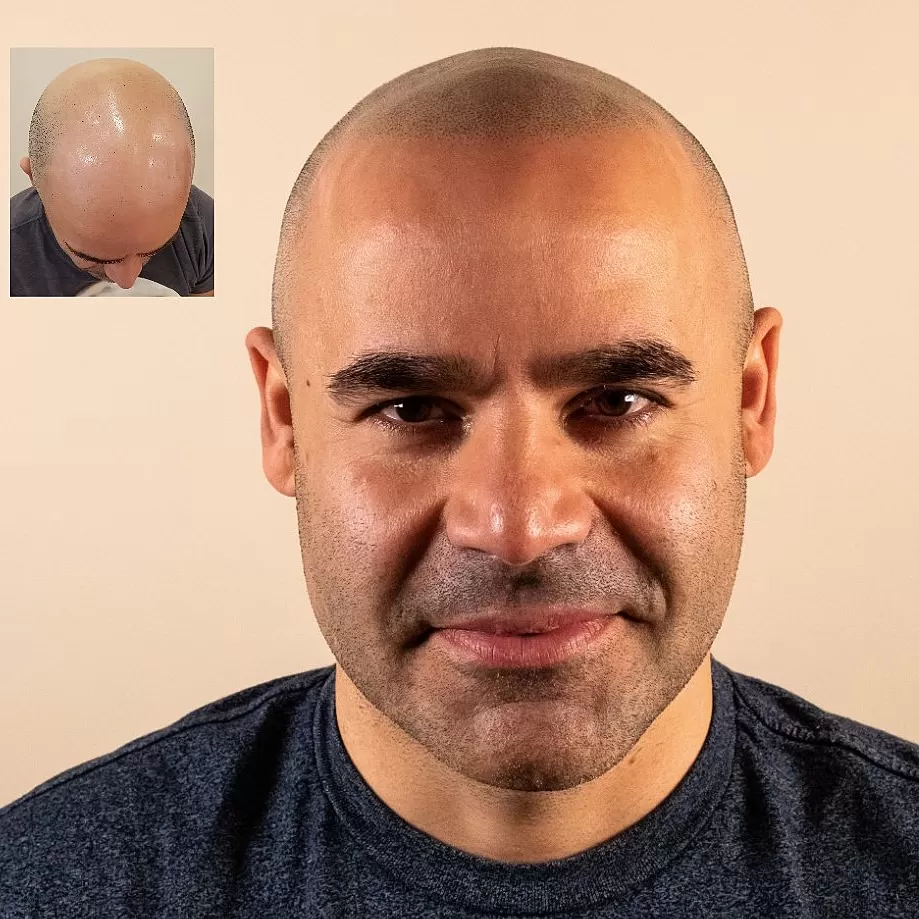 Our client here flew all the way from Germany for his SMP treatment! He opted for a more subtle and more mature look. The hairline is not as low as some of the other treatments, it has built-in recession and a natural curve. The great part about scalp micro pigmentation at Scalp Micro USA is that it is completely customizable to your desired look. This is a slightly recessed, broken, soft hairline with slight curve at the profile edges.
Scalp Micropigmentation in New York City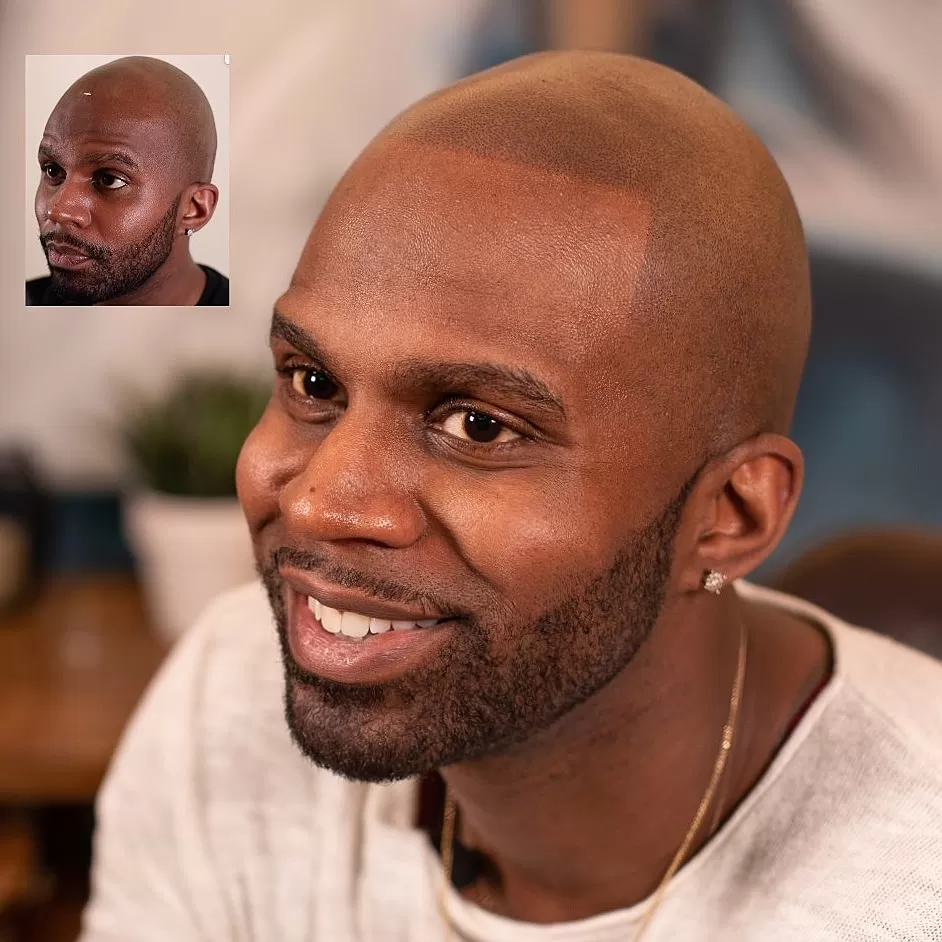 This is an incredible transformation for a gentleman who wanted a barbershop style lineup. He has a darker complexion and we're able to dilute our pigment to match all different types of skin and hair types. The top hairline is crisp and the profiles come in at a perfect angle. You can tell by Bryan's smile that he is super happy with his new look after scalp micro pigmentation.
Scar Transformation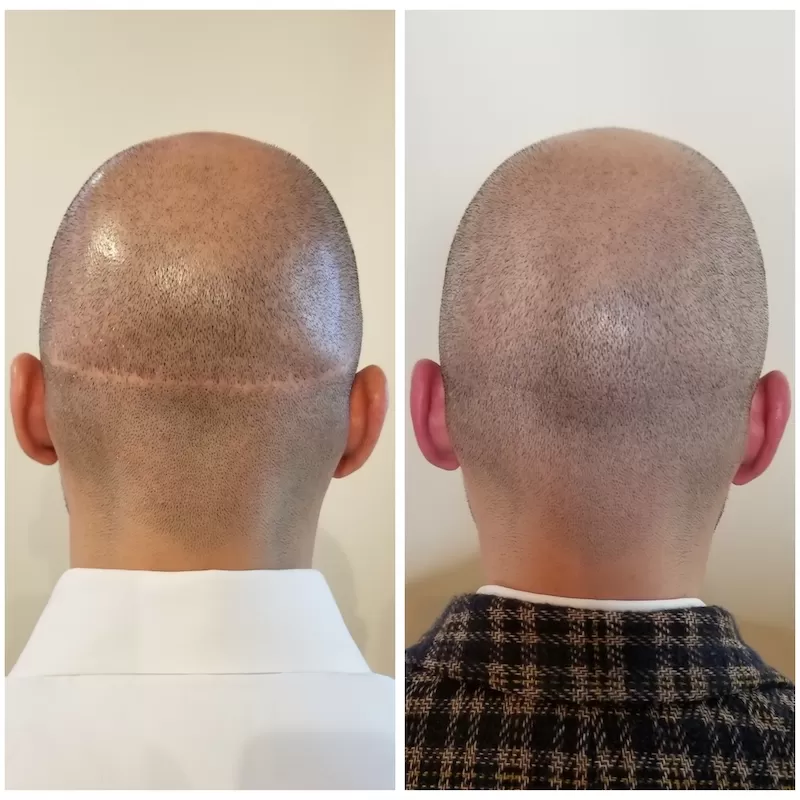 This is an FUT transplant scar and the transformation is crazy. We were able to get a good amount of pigment inside the scar and blend outside the scar line to diminish the scar tissue. 
Scalp Micropigmentation Top of Scalp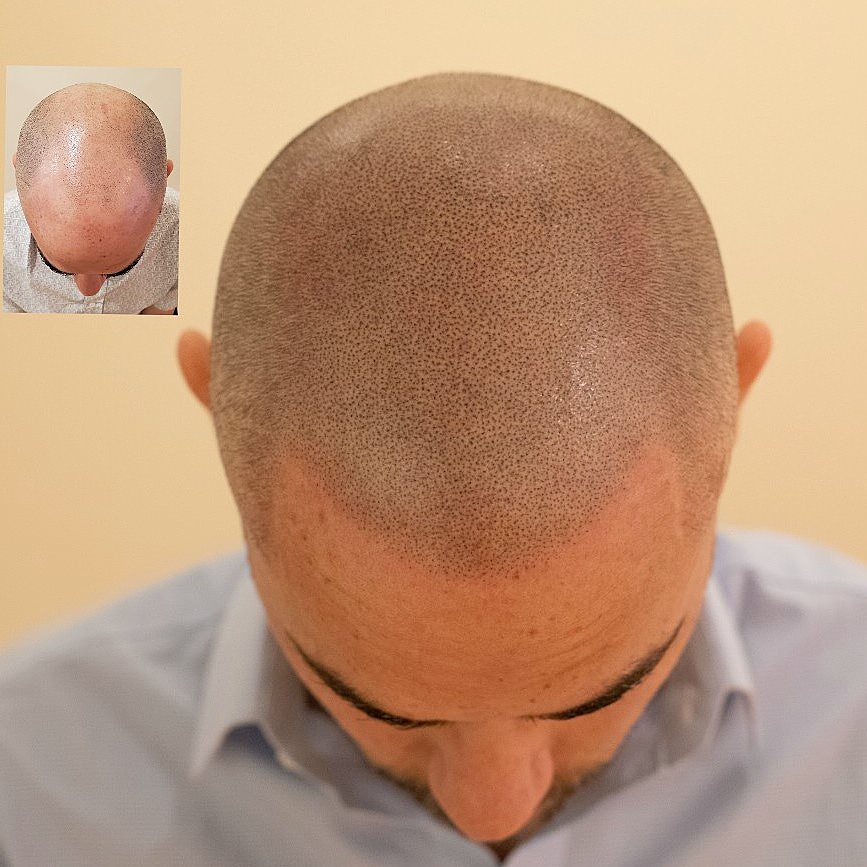 Here's an aerial view of a before and after treatment just to show you the SMP detail for each client. This client was a Norwood 6, very little hair on the top of his head, and we were able to replicate tiny hair follicles from hairline to crown. A seamless SMP treatment with the look of strong density to bring back some youth.
Recent Client of SMP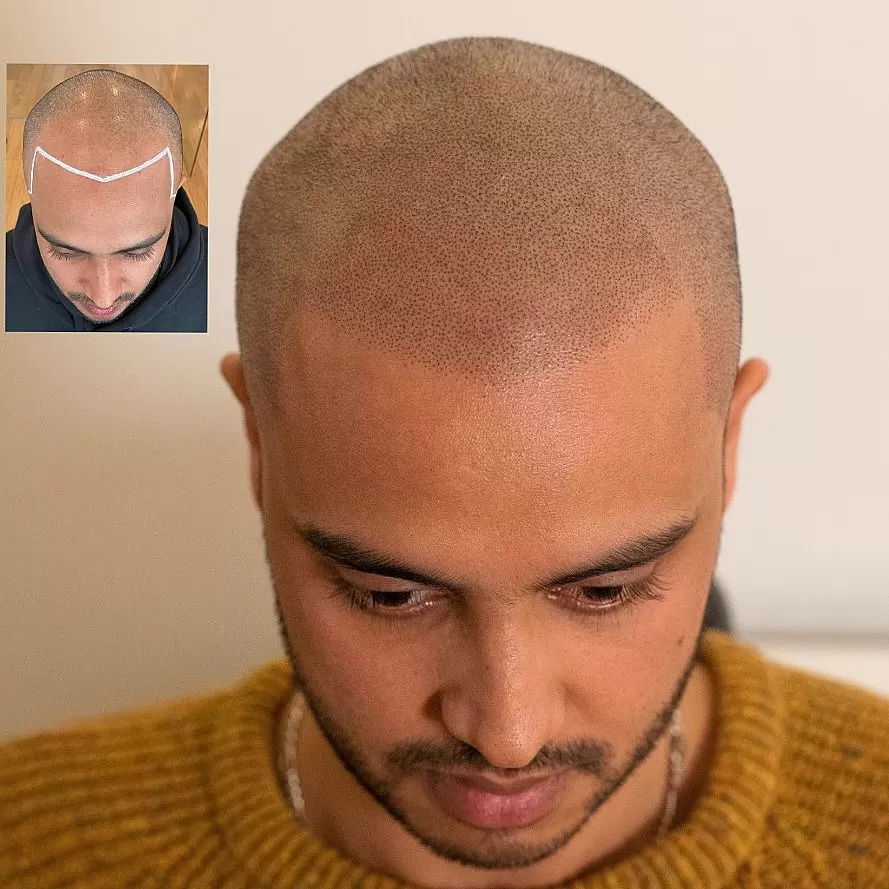 For this client we did hairline restoration and added density across the top scalp. We even added pigment to places that had existing hair to help thicken and make it look fuller. This client chose an angled hairline, with slight recession and widows peak. The slight redness will pass after 24 hours and this blend will be completely unnoticed. 
Scalp Micropigmentation Los Angeles, CA
Darron came to our Scalp Micro Los Angeles clinic and the results are fantastic! He was struggling with hair loss and used toppik and hair fibers to cover up his hair thinning. This was impacting his day to day life from fitness to going out with friends. We helped restore Darron's hairline and added density to the profiles to give proper framing to his face. Darron is a young guy, in his mid 20's, and now looks his age and can get up without using products, pills, potions and can be back to enjoying his life.
Scalp Micropigmentation at Scalp Micro USA
We hope that this has provided some real life examples and details of guys that have chosen Scalp Micro USA for their hair loss. As you can see, the scalp pigmentation treatment is completely customizable and we work with you to choose your desired look. To speak with our practitioners, click HERE for a free consultation.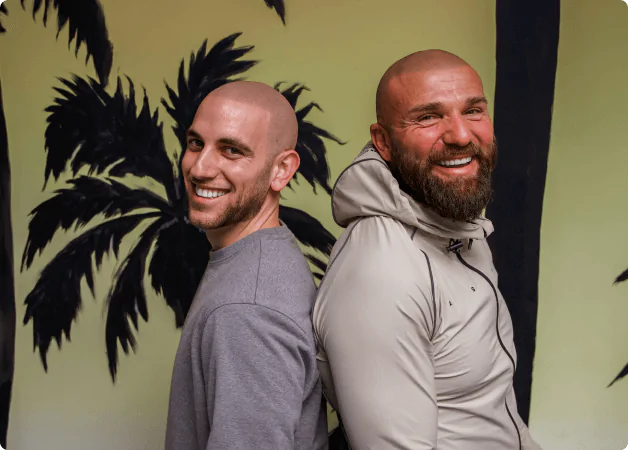 Tired of hair loss?
Get the perfect hairline, 100% guaranteed, with our scalp
micropigmentation treatment that is customized just for you. No more
crazy combovers. No more ineffective medications. Just results.