Our team has 10+ years of scalp micropigmentation experience with 10,000+ happy clients!
Matthew Iulo, Lead Specialist
Matt was among the first specialists to deliver scalp micropigmentation treatments in the United States. Recognized internationally for his premier results, Matt has treated over 5,000 clients suffering from hair loss, scarring, and alopecia. Matt runs an industry-leading training program that teaches people & companies his proprietary scalp micropigmentation techniques.
Graig Lauricella, Houston Clinic Manager
Graig is an expert scalp micropigmentation practitioner with over 7 years of experience, treating over 4,000 clients. Graig runs our Houston clinic and loves to provide clients suffering from hair thinning, balding, and hair transplant scarring the most natural results.
Derek Bogner, Los Angeles Clinic Manager
Derek has been with Scalp Micro USA for over 2 years and treats two clients per day. He understands the importance of hairline design and color matching for all types of clients. Derek is known for his natural treatment results and the ability to approach each client as a completely new canvass. As both a client and practitioner of SMP, he is a wealth of knowledge for anyone starting their scalp micropigmentation process.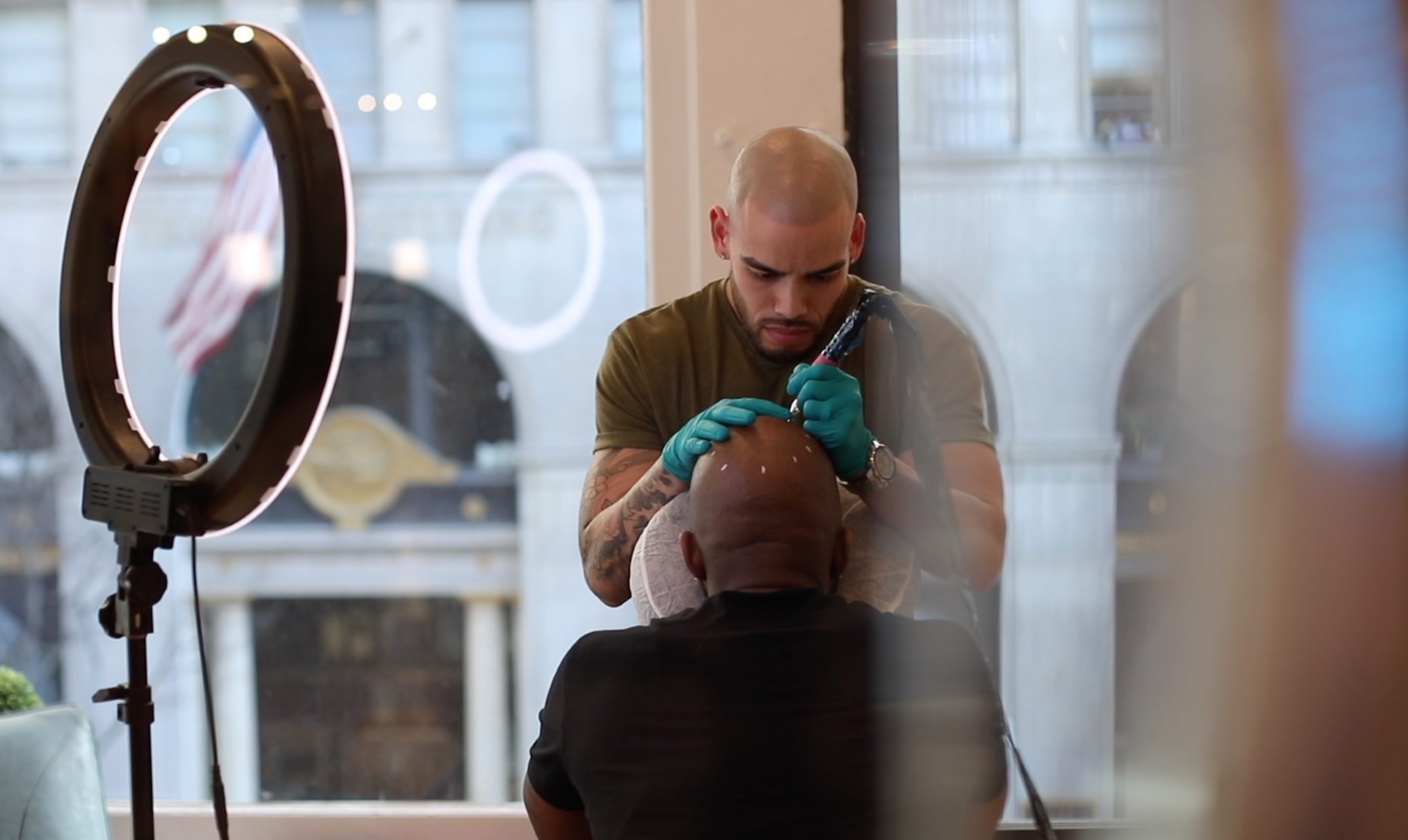 Mike Sosna, Lead Practitioner
Mike is an established Scalp Micropigmentation practitioner who excels in hairline design and knows exactly what style will fit a client's face. A client of SMP himself, Mike is in touch with both urban styles and more softer mature looks. His passion shows strong in his world-class results. Mike has over 3 years experience and has treated over 2,000 clients.
Brad Bohannon, Los Angeles SMP Practitioner
Brad is an experienced Scalp Micropigmentation practitioner who creates natural results for all of his clients. He is an expert in color matching and hairline design. Brad is the lead practitioner at Scalp Micro USA Los Angeles and treats two clients everyday. 
Joe Crone, Lead Practitioner & Clinic Manager
Joe is the Lead SMP practitioner and clinic manager at our Chicago location. Along with 2 years of SMP experience treating hundreds of clients, Joe has 6 years of extensive needle to skin knowledge specializing in black and grey realism. Known for his hyperrealistic attention to detail and passion for design, Joe takes each client's specific vision and style to the next level.
Danny Horal, Lead Practitioner & Clinic Manager
Danny is the SMP Lead Practitioner and Clinic Manager at our South Florida location. Danny received his scalp micropigmentation treatment at Scalp Micro USA and joined the team shortly after. Danny finished his Master Training with Matt Iulo in New York and completed an intensive apprenticeship for over 3 months. Danny takes the time time with every client during their consultation to truly understand their ultimate treatment goals and deliver a seamless and natural result.
Ken Boyle, Lead Practitioner
Ken started as a client at Scalp Micro USA and after the scalp micropigmentation treatment changed his life, Ken joined the team to make hair loss his mission. Ken is an absolute rock-star who has treated over 3,000 clients with over 5 years experience.
Max Fierro, Lead Practitioner
Max is one of the leading scalp micropigmentation practitioners at Scalp Micro USA. He has over 2 years of experience and has worked with over 500 clients at Scalp Micro USA. He graduated top of his class from Scalp Micro USA's training academy and finished a rigorous apprenticeship under Matthew Iulo. Max will work with you to create the most natural SMP result. He also has the treatment done!
Justin Taibi, Lead Practitioner
Justin has over 2 years of experience and has worked with 500+ SMP clients. Justin graduated top of his class from Scalp Micro USA's training academy and finished a rigorous SMP apprenticeship under Matthew Iulo. Justin was a barber and artist for over 5 years before learning scalp micropigmentation. Justin can work with all hairline styles to get you the best possible treatment.